Comfortably warm with sunny skies, August 1st was a great day for the Groton Alumni Reunion. The annual picnic stretched across the grounds of the Groton Rod and Gun Club under numerous tents. Professional Disk Jockey and Groton Alumnus Dale Harrington emceed the event and provided music for dancing and mingling until 9 o'clock that evening.
Old friends reconnected and reminisced about their younger years. Everyone had an interesting story to tell. Husband and wife Ted Pless and Shirley Brockway Pless met each other 45 years ago as Groton high school students. Ted was a Senior and Shirley a Sophmore when they met. The Pless's currently live in Florida and have two children and 3 grandchildren. They remember Groton being a close-knit school that felt like family.
Classmate Betty Conger agreed, "Groton is a small town with a big heart", she commented. Some of her favorite memories of 'Friday Night Lights' football games and Tuesday and Friday basketball games. Also that weekend, Betty participated in the pay-to-play alumni golf tournament, the proceeds of which go to school sports.
Many alumni cherish their student experience learning and living in Groton. Class of 1983 alum Lisa Shurtleff recently purchased a home in the area.
"It is a nice community to grow up in…the community raised us and they still do," she commented.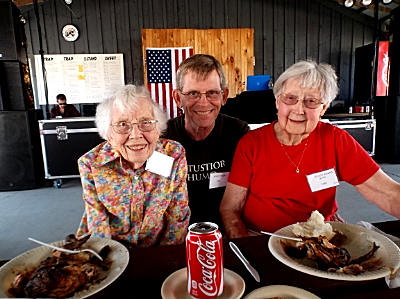 During the reunion, a ceremony is held to honor anniversaries and announce the Groton Senior who will be awarded the Alice Sincerbeau-Houston award in the coming school year. There were just thirty students in the graduating class of 1940, and three of them were present at this event, held seventy five years later. Ellen Adams King, Wilma Wilcox Patterson, and Thelma Hoy Riese-Witty represented this class.
Thanks to the hard-working volunteers of the Groton Alumni Association, this year's reunion was again a complete success. Local HVAC technician Scott Wilcox graduated from Groton thirty five years ago and was a first time attender this year who was glad that he came. Wilcox said he expects to be back again before the next class anniversary in five years.
Summer Skill Building
The first year of Summer Academy at Groton Elementary has been an exciting one! The four-week intensive Academy was filled with high interest activities and small group instruction. Besides keeping children socially and mentally involved in learning during the long summer break, the classes provided exposure to mathematics and literacy curriculum in the students' current and rising grade level.
Students from grades 3 through 5 were selected for this year's Academy based on teacher recommendations, with the goal to maintain and improve their reading, language arts and mathematics skills over the summer.
BOUNCE was another program offered at the elementary school this summer. BOUNCE is a first-to-second grade reading intervention program. First grade students are invited into the program by teacher recommendation during the fall of their first grade school year to boost their literacy skills. The participants attend small-group sessions after school with a certified reading and/or special education teacher and these sessions continue through the summer. These students will continue in the BOUNCE program when they return in the fall as second graders. BOUNCE is designed to offer its participants with extra reading and writing support during a critical time in their development of these fundamental skills.
Both of these summer programs have allowed elementary students the opportunity to continue developing skills that will make them more confident readers, writers, and math problem-solvers!
Groton Olde Home Days
Groton will be bustling with music and activity this weekend, as visiting bands and performers converge on the village for the annual Groton Olde Home Days. Festival organizer Kathy Thomas is excited about this year's line-up of talent and Saturday's circus themed shows. Event-goers will have plenty of choices for entertainment throughout the day Saturday. Live music and other performances will be held along Main Street from the north end parking lot to the American Legion at the south end.
Children young and old are encouraged to pick up treasure maps and explore the town's businesses and landmarks on a pirate's scavenger hunt that will end with a prize. Saturday evening, visitors can enjoy a lively parade down Main Street starting at 6:00 pm. Olde Home Days annual highlights not to miss are the annual duck derby in the creek near the center of town, the Verne Morton photography show, Crafter's Village and the car show.
v11i31