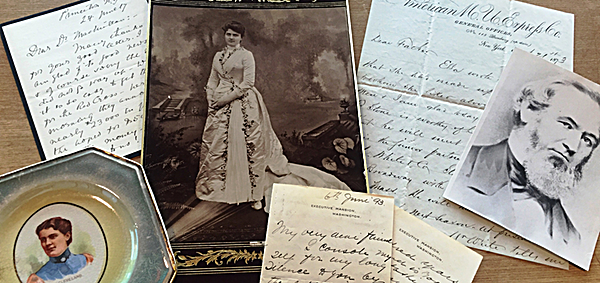 Aurora, New York—Wells College's Louis Jefferson Long Library was chosen to receive a grant from the South Central Regional Library Council for the digitization of selected items from the library's archives. The Regional Bibliographic Data Bases and Interlibrary Resources Sharing (RBDB) Grant, totaling $6,464, will fund digitization and cataloging of the Albert Leffingwell Collection, the Frances Folsom Cleveland Collection, the Victor Hammer Collection, the Ella Wells Stone Collection of Henry Wells Papers, and the Book Arts collections. Priority will be given to the Book Arts Center items, which includes more than 3,000 books, pamphlets and other publications focused on the history and technologies of printing and typography.
"Of all the materials in the Long Library Archives, the Leffingwell, Cleveland, and Hammer collections are by far the most often requested by scholars. Digitizing these will make them more accessible to researchers, and will allow others to see and understand the quality and scope of our collection," said Library Director Carol Henderson.
"This is a follow-up to our RBDB grant in 2016-17, which supported seven Wells internships. Students interested in history and museum studies were able to work directly with rare original materials, and to learn the latest techniques in digital scanning and metadata preparation. We are very excited to be able to continue and extend this project over the coming year."
Once the project is complete, it will be made accessible via New York Heritage.
The South Central Regional Library Council is one of nine Library Councils comprising the Empire State Library Network. As a multi-type library consortium, SCRLC serves 78 members across 10,000 square miles and reaches over 500 libraries in its service area.
v13i15