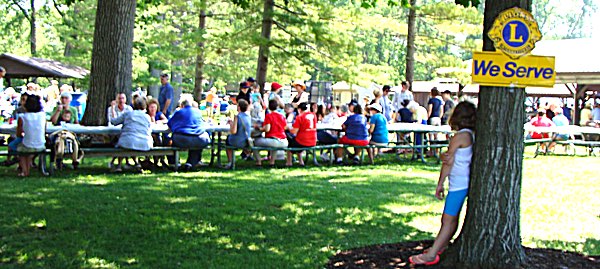 If there is one thing you can count on on the 4th of July it's the Lansing Lions Club 4th of July Chicken barbecue. Families thronged to Myers Park Tuesday to enjoy the beautiful day and a delicious chicken dinner. At least 40 volunteers made of Lions Club members, non-member volunteers, and boy scouts, cooked and served the chicken.
This thing almost runs itself," says the current Lansing Lions President Rick Hayes. "These people know exactly what they're going to do and when they're going to do it. It comes together like a well oiled machine."
That machine cooked 1050 chicken halves, and between 40 and 50 cakes were won at the ubiquitous cake wheel. Hayes was hoping to sell out on the dinners, which included potatoes baked beans a cookie, and drinks, as the club did last 4th of July.
"The monies that we raise go into the programs that we have: we provide eyeglasses to people that can't afford them," he says. "We give money to different organizations, including the food pantry, and we donated the pavilions in the town parks. All our funds go right back to the community."