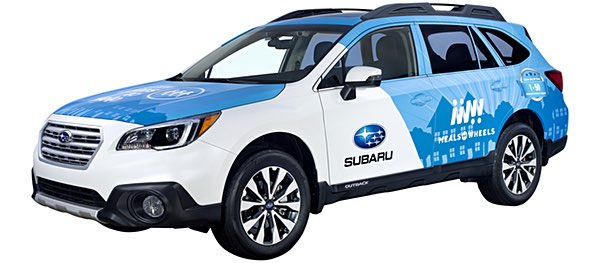 In celebration of its 50th anniversary, and in keeping with its commitment to support local communities nationwide, Subaru of America, Inc. will donate a Meals on Wheels delivery vehicle to Foodnet, in partnership with Meals on Wheels America. On average each month, Foodnet drives 9,229 miles to deliver meals. The donated 2018 Subaru Outback will enable Foodnet to replace a delivery vehicle well past its life expectancy, and help improve their ability to reach homebound participants that reside in rural locations.
Foodnet's Executive Director, Jessica Gosa said "Over 60% of Foodnet participants live alone, and more than 42% reside in rural locations. While Tompkins County is scenic, snowstorms can hit unexpectedly, creating hazardous travel conditions that challenge our ability to reach remote areas. The donated all-wheel drive vehicle will tremendously improve our ability to deliver meals to our older adult neighbors, especially during difficult weather conditions. We are looking forward to celebrating our partnership with Subaru of America, Inc. and Meals on Wheels America."
This fall, Subaru donated 50 new 2018 Subaru Outback vehicles to select Meals on Wheels programs throughout the county, to be used in the delivery of an estimated 53,000 meals to an additional 3,700 seniors across 39 states. Subaru has supported the national Meals on Wheels network for the last nine years through its annual philanthropic event, Share the Love, contributing more than $12 million to Meals on Wheels America and providing more than 1.7 million nutritious meals, friendly visits, and safety checks to seniors.
"Subaru's '50 Cars for 50 Years' vehicle donation will enable Meals on Wheels programs, like Foodnet Meals on Wheels, to expand its reach to many seniors in need," said Ellie Hollander, president and CEO, Meals on Wheels America. "This latest act of care and kindness further underscores Subaru of America's longstanding commitment to giving back to communities large and small."
The Subaru and Meals on Wheels partnership is part of Subaru Loves to Help, a pillar of the automaker's larger Subaru Love Promise Community Commitment effort dedicated to making a positive impact on local communities across the country. Each 2018 Subaru Outback donated will be delivered to local retailers and wrapped with Meals on Wheels America and 'Subaru Loves to Help' co-branding.
"We wanted to celebrate our 50th anniversary in America in a way that is appropriate for our brand and are delighted to donate vehicles that will support local communities by combatting threats of isolation and hunger affecting seniors across the country," said Thomas J. Doll, president and Chief Operating Officer, Subaru of America, Inc. "At Subaru, we believe in providing safe and reliable vehicles for all of life's journeys and are honored to partner with Meals on Wheels to help people live more nourished lives."
v13i33