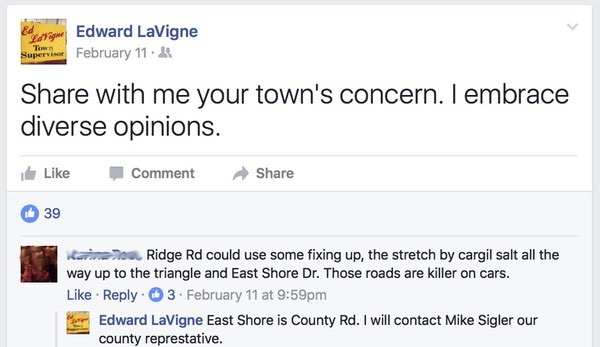 In 2008 then Deputy Mayor Larry Fresinski tried a social experiment. He created a Facebook page for the Village of Lansing on the theory that the government would get more input from citizens if it went to where they were hanging out, rather than waiting for them to come to Village trustee meetings. Fresinski may have been ahead of his time. The page was only moderately successful, and was not maintained by the Village after he moved away. This February Lansing Town Supervisor Ed LaVigne tool a less structured approach using the same idea, and so far he has been getting a lot of traction from it.
LaVigne simply posted, "Share with me your town's concerns. I embrace diverse opinions." The post garnered 96 replies and 39 'likes'. A number of people expressed concern about state and county rods that traverse the town. There were questions about how boat slips are allotted in the town marina. There was talk about attracting business to Lansing and the sorts of businesses people find attractive. Internet access and competition for Time Warner cable was suggested. Only one respondent posted with a markedly negative attitude, but LaVigne says that even those posts made the thread a success.
"We had spirited dialog. I don't care about the adjectives. Some people are passionate about it. In my job as a pharmacist you listen to the content, not the verbiage -- you listen to their concerns. You filter out the emotion from what they're really trying to tell you. It was a teachable moment. That's what you try to do when you have dialog with the people who hire you for this job -- you try to have teachable moments and you do it in a respectful way."
LaVigne followed up, reporting on the thread what actions government officials took to address the issues raised when they were within the Town's jurisdiction. And he explained why the Town could not act, for instance, on roads not owned by the Town, like East Shore Drive and Ridge and Auburn Roads (state-owned), but recommended contacting state or county officials with those concerns.
On the heels of that success LaVigne started a new thread, asking, "Should Lansing celebrate it's 200th anniversary this year? If yes, where and how? Your constructive comments and suggestions please." That spawned a
Facebook group
that, so far, has attracted1,719 members, 25 of whom showed up at the Town hall for an initial organization meeting March 1st. The group continues to meet and plan for an event at Lansing Central Fire Station on September 9th.
"It was successful because it's another way to reach out to me," he says. "This is another method to reach out to people. I thought, 'let's find out about this issue'. Sometimes you see the success and the passion that's expressed and you find another subject to talk about. There will be other subjects down the road, but I think this was appropriate because it's coming up. The amount of energy that's out there is very exciting and it's all positive and respectful."
LaVigne said he got the idea because he felt Lansing had been left out of a county-wide discussion about a natural gas moratorium on new Lansing customers.
"What did it was when I met with the Tompkins County task force and found out we had been left out of the conversation," he says. "I said why not include everybody, especially the people who are at stake? I embrace all diverse opinions, which means I embrace everyone."
LaVigne says that he can't help residents if he doesn't know they are out there. But he acknowledges that many people feel uncomfortable speaking up in a public Town Board meeting. He said canvassing neighbors during the sewer discussion while he was a councilman was an eye opener for him.
"When I was passing petitions I used to ask them now that you have a Town Board member in your living room do you want to share anything off the record, and they would pour their heart out to me. They said before I have to pay for somebody else's sewer can I have water? We're in the process of putting together a five mile water district now because of that. There are two water districts on the board right now, possibly a third one because of communicating with people. You have to go to them."
LaVigne has used his Facebook page to find volunteers for charitable or community-based initiatives as well. One post garnered support for a building project that involved adding a wheelchair accessible deck/ramp to a home. After a resident's leg was amputated, his landlord reached out to LaVigne, telling him he could not afford the addition.
"I reached out to people -- Doug Dake from D Squared volunteered this time and energy to be the lead contractor," LaVigne says. "I reached out to Scott Morgan from SDM to set all the posts. I reached out to anybody who wanted to help and we put the deck up and he is in his house now -- he got to go home."
During this week's blizzard LaVigne reached out again, posting, "Another 'what's on your mind' session. Today to get your minds off of the storm let's talk spring. Lansing loves sports. We love to talk sports , we love to play sports and yes , we love to coach sports (right Steve Colt). We also love to build things , playgrounds, pavilions, docks( have you seen the one being constructed at Myers Park)? You get the idea. Let's build some dugouts."
That discussion is only just starting. And LaVigne says he intends to keep reaching out on Facebook as more local issues are raised.
"We've scratched the surface," he says. "This is only the beginning of a great thing. The bottom line is you have to filter the serious comments from the derogatory ones. You have to look for the positive results. It's always about positive results to enhance and make our community better."
v13i11