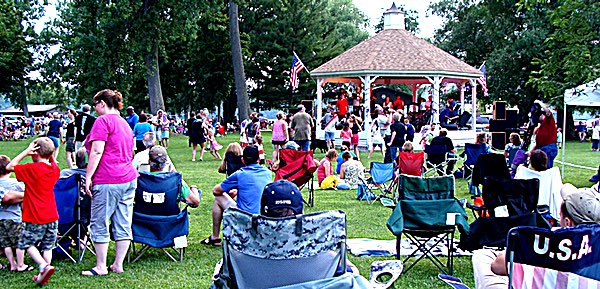 Two days after the 4th of July music lovers filled Myers Park for the kickoff 'Music In The Park' concert series. Every Thursday through August 17 a new band will play. The opening band was Small Town Shade, an award winning Cortland-based country band that has been featured on radio with their single, 'Can't Stop, Won't Stop'.
"Nick Stark is the front man for that band, and they were really good," says Lansing Park Superintendent Steve Colt. "It was an excellent opening night crowd. I would say 700, 800, maybe more. There were cars all over the place. It turned out to be nice weather, they sounded great, people were pretty generous at the door -- it was a good opening night experience. I was really pleased with the crowd on the first night."
After the first night the series builds momentum, often topping 1,500 or 2,000 for some Thursday crowds. The concerts started small about 15 years ago in one of the park pavilions. Colt says in the early years he was glad when 50 people showed up, and he had to hustle to convince bands to play. Now more bands than he can hire approach him . He puts together the season mixing some repeat bands and some new to the series, based on how well they draw crowds, a mix of music styles, and the quality of the music.
Last night City Limits, a blues-rock band, was booked, but had to be cancelled because of bad weather. Coming up for the rest of the season, Dean's List will play July 20th. At its core are John and Bob Dean, formerly of the popular Dean Brothers, and Kate Ellen Dean (Bob's daughter) and Caroline Manring Dean (niece-in-law) blend an acoustic soft-rock sound with stunning harmonies and instrumentals.
"There were a couple of bands in the 'Concerts in the Courtroom' series that were absolutely outstanding," Colt says. "It was a shock to all of us how great that venue really was. The Dean's List was there and people were dancing in the courtroom -- they couldn't stay seated! John Dean and his brother and nieces play this thing. They're really, really good."
They will be followed by the Jeff Love Band on July 27th; Destination Band on August 3rd; Bad Alibi August 10th; and Iron Horse.
"Jeff Love will draw huge," Colt predicts. "Destination will draw huge. Bad Alibi will draw huge - our own Scott Hollister from the Highway Department is the drummer in that band. And then long-time favorite Iron Horse with Mark Armstrong and company. Our lineup is potentially a blockbuster lineup and it all comes down to weather. If the weather is nice on Thursday evenings we could have huge crowds for the rest of the way. We put the request in... we hope we've been heard!"
That is the one unknown -- the weather. Last night's City Limits concert was cancelled due to flooding in Myers Park and thunderstorms. The Town doesn't have a commensurate indoor venue, so if the weather doesn't cooperate there is no place else to hold them.
"That's just one of the things you deal with," Colt says. "We're not set up to take it anywhere else except where it is. If the weather's really bad and it gets cancelled, we try to tack it on at the end of the series. If it's not, people certainly know where we are now, that's for sure."
Food this summer will include burgers, fries, subs, hotdogs, pizza, chicken tenders, wines and craft beers, and of course ice cream.
"Michelle from Jump Around Inflatables bought a brand new, beautiful food trailer. She is going to be our food source," says Colt. "It's french fries, burgers... Nicole, from the Lake Watch Inn sets up under the F Pavilion, offering craft beers, wines, and those sorts of things. Nick Megamoo's ice cream truck will be there. I've been approached by a lot of people that want to set up booths to support the Bicentennial function on September 9th. Tompkins County Recycling likes to have a table there from time to time, and other things like that.
The Myers Park concert series is supported entirely by donations at the gate. It pays for itself plus a smaller, more intimate concert series in Ludlowville Park.
"Folks are generous," Colt says. "It covers the costs of the bands. At the end of the series it has paid for the series and the concerts in Ludlowville Park."
The Ludlowville Park series features two acts this summer, including Paul Kempkes (Dr. K) on Friday, July 21st, and Kip Opperman and Friends on July 28th along with the Lansing Lions Club's annual ice cream social. Colt says the Rec Department had a role in restarting Opperman's music career.
"We always kid each other that if it wasn't for Lansing Travel Rec Baseball he wouldn't be playing," he says. "He pulled his guitar out of retirement several years ago when his son, Will, who was 12 years old at the time, was playing travel baseball. They were at a tournament, sitting around the campfire after the first night of games. Kip pulled his guitar out and everybody said, 'Hey, you're pretty good', and that's where it started. He went from there to the point now where he travels all over and plays music everywhere. That's how Kip got his restart."
Colt says the concert crowds don't leave a mess, but tend to pick up after themselves. Extra trash barrels are placed in the park for the concerts, but most people take out what they bring in. A Town Constable and occasional Sheriff's Deputies unobtrusively payroll the concerts, but Colt says the patrons are well behaved and respectful.
"It's a whole different kind of vibe," he says. "It's family oriented and everybody gets it. People look forward to it."
Concert goers join Colt in praying for good weather. Crowds have, on occasions when it rained during a concert, surrounded the band stand with their cars and listened through open windows. If Colt does have to cancel a performance it is disappointing for everyone.
"Public safety is number one," he says. "People bring in expensive equipment and you don't want it to be ruined. Third of all, if you get up on stage you probably would rather play for free to a big audience than to get paid and play for nobody. The musicians enjoy looking out and seeing a big crowd. That's what makes it fun down there."
v13i27