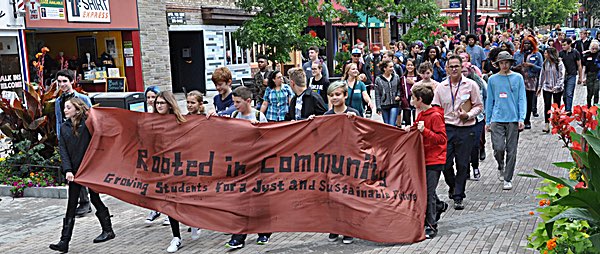 Carrying a banner saying "Rooted in Community," New Roots Charter School students and staff walked the Commons together today in celebration of their shared values as a school community committed to social justice and ecological sustainability.
"Inspired by the values of the first people who were stewards of this land, New Roots expresses the core value of respect for self, others, and the environment into all that we learn and do," said Tina Nilsen-Hodges, principal. "Our school is an example of the power and potential of a whole school community committed to shared values that foster justice and environmental stewardship."
Tina Nilsen-Hodges says that the Commons walk in their first-day assembly plan was inspired by Dr. Luvelle Brown's call for members of our community to respond to the summer's violence in Charlottesville, VA by demonstrating "what people in Ithaca and Tompkins County value: inclusive, empowering, and culturally-responsive environments."
"Today we join our voices with others in our community who are celebrating the power and potential of our young people and educational environments that nurture positive, healthy relationships and support all students in dreaming big, developing a compelling plan for their life, and learning to make their dreams a reality," said Nilsen-Hodges.
v13i35