Upgrading your operating system when you are in a hurry is a bad idea.  But some geeks just can't wait for the latest greatest.  I'm not pointing any fingers, but when the newest version of
OS X
showed up in the Mac App Store Wednesday morning I paid the 19.99 and the fun began.  The last several versions of OS X have been named after cats, which I am all about since I am a cat lover.  This latest greatest is called Mountain Lion, OS X Version 10.8.
Since me and who knows how many others tried downloading the new operating sytem at the same time (and because it is a big honking download) on its first morning it took nearly an hour before a message appeared asking whether I wanted to begin the installation.  I could continue to work on my computer while this was happening.  From there the installer estimated it would take another 35 minutes to complete the installation.  I couldn't use the computer during that phase, which is one reason not to do this when you're in a hurry.
Both Microsoft and Apple have made much about the enormous success of mobile devices over the past few years, and both are reportedly designing their computer operating systems to emulate and synchronize with their respective mobile operating systems, making the computing experience more like the mobile one.  The Mac App Store itself was a move in that direction, following the stellar success of the iPod/iPad/iPhone App Store.
Mountain Lion adds apps that come from iOS like Reminders, Notes, Messages, Dictation, iCloud integration and the handy Notification Center.  Handy on iOS devices, that is... Will it prove as handy on a desktop computer?  The new OS also integrates sharing on Facebook, Twitter, Flickr, or Vimeo whenever you just have something you have to share online.  All in all Mountain Lion boasts over 200 new features.
Up to this point I wrote this on another device while Mountain Lion was being installing.  How come whenever it says 'Time Remaining: Less than a minute' it always takes more than a minute?  I left the room.   When I got back my Mac had rebooted, and just about everything looked the same as before, which is what I hoped for.
He is what was different: An alert popped up reminding me to put an announcement for the Lansing Democrats in this week's issue of the Star.  A new icon appeared on my menu bar that toggles the Notification Center.  And icons for Launchpad, Notes, and Reminders have been placed on my dock.  And OS X is now asking my permission for my apps to access the computer.
I wrote this review on an iPad in an editor that saves to my Dropbox account.  Every time I saved a draft from the iPad Mountain Lion showed a little notification window on the Mac telling me it updated the file.  It seemed creepy at first that the Mac knew what the iPad was up to, but certainly handy if someone else were about to work on the same file while I was updating it.
I started the Mail app, and it told me my existing messages need to be upgraded for the new version of the program, so I said OK.  It thought I might be bored, so it gave me a link to click so I could read about the new features.  But it didn't take that long, so I didn't get to read them.  When the app loaded it looked the same as before the upgrade.  One of the new features that I particularly like is VIPs.  You set a VIP by clicking the little drop down arrow on an email address in mail you have received, and thereafter a star is shown next to all mail from that person.  Additionally they appear in a special VIP smart mailbox (in addition to the box the mail arrived in).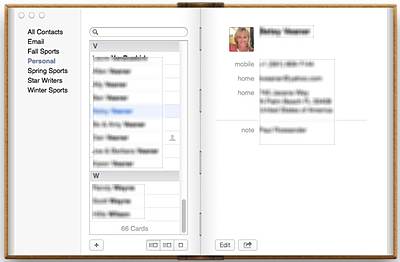 I like the changes to Address Book, from the integrated view to the share button.  No more going back and forth to pick categories -- it is all on one screen now and much handier.
I will admit that I don't use a lot of the default apps on my phone that Apple seems to think are important.  In fact, I have been annoyed that there is no way to take them off my phone screens like I can with third party apps.  So having Notes and Reminders in my dock wasn't exciting to me.  At least in Mountain Lion I can remove therm from the dock.  Same with Launchpad, which I rarely used in Lion, and probably won't use much in Mountain Lion.  And Game Center?  I'm not much of a gamer, so I probably won't use this new 'feature' either.
Safari adds a 'Reading List', basically Web pages you save so you can read them later, even without an Internet connection.  Again, I may not be the optimal Apple customer -- I use Firefox for most of my Web browsing.  I tried Safari anyway, and it seems to be loading more slowly than Firefox.  As for Messages, the Mountain Lion version lets you text people from your computer.  I have texting turned off on my phones, so, again, I am the Grinch when it comes to many of these 'wonderful' new features.
Dictation really works.  I am speaking the words you are now reading, and miraculously the feature seems to be understand my words and typing them accurately. But it's slower on my Mac then it is on my phone, and you must be connected to the Internet for it to work.  One great feature is that it works with any app, not just Apple apps. 
Another nice new feature is that Time Machine now backs up your stuff to multiple drives.  Software Update has been moved to the App Store.  Supposedly this will make updates less intrusive. Let's see... I clicked the apple and then Software Updates, and App Store loaded.  Wow, there are updates for iPhoto and iMovie!  I click the update button and here they come.  It looks different, but the experience isn't much different from the old Software Update.  Airplay will be a welcome addition for those who have Apple TV, allowing wireless streaming of music and video content.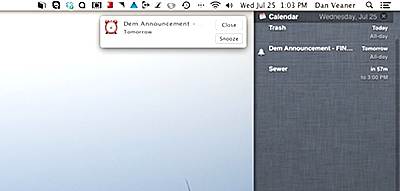 I do use the Notification Center quite a lot on my phone, so I am happy to have it in Mountain Lion.  You can set it up to tweet or share from if you are into those things.  Just for the heck of it I tried setting up Facebook.  It wasn't obvious or particularly easy, and I am not seeing anything but Messaging working -- maybe I'm doing it wrong.  I hope so, because I don't 'instant message' at all any more.  Ah!  Apple says Facebook will become more integrated this Fall.  No posting from Mountain Lion for now.
One program I already used updated and started notifying me of things -- I didn't really want it to, so I turned it off.  That just illustrates that as more apps are updated for Mountain Lion, more will be compatible with Notification Center.  But weather isn't in it -- I am hoping some third party weather app will add this compatibility soon, because I really like weather at the top of the Notification Center on my phone.
I definitely see how Apple has tried to make the computing experience come closer to the mobile experience.  I think having two experiences isn't so bad, though.  One of the amusing down-sides of my Mac being like my iPhone is that occasionally I try to touch the Mac screen to make something happen.  Of course that only works on touch screens.  But it makes Dictation, for instance, a lot less convenient on the Mac than it is on the iPhone.  On the other hand, typing is a lot more convenient on the Mac than on the phone.
Mountain Lion is the first piece of the newest Apple tsunami of releases, to be followed by iOS 6 (this Fall, they say) and the iPhone 5 (supposedly in October).  When you consider the average Windows upgrade has historically cost in the $120 range for each computer, $19.95 for up to five computers sharing an Apple ID account is a steal.  No doubt in response to Apple's growing user base the Windows 8 upgrade will reportedly cost $40 for a limited time until the end of January, 2013.
Upgrading went almost frighteningly smoothly for me.  It did what it did with virtually no input from me, and then it rebooted and it worked.  No muss, no fuss.  Part of why that happened is that I had run the updater beforehand to made sure that any apps I care about are up to date.  I also have good backups -- that is really important before you do something as seminal as installing a new operating system, which is the computer equivalent of installing a new personality.
Bottom line, is the $19.95 update worth it?  I have a lot of new features to discover, but in my first afternoon I'm going to say maybe.  There seem to be a lot of little improvements, and I haven't discovered anything on my system yet that ran under Lion that doesn't run under Mountain Lion.  What was nice was that nothing significant changed for me, so my learning curve is optional.  I know I will use Notification Center, and I like having more system-tweaking options.
v8i29