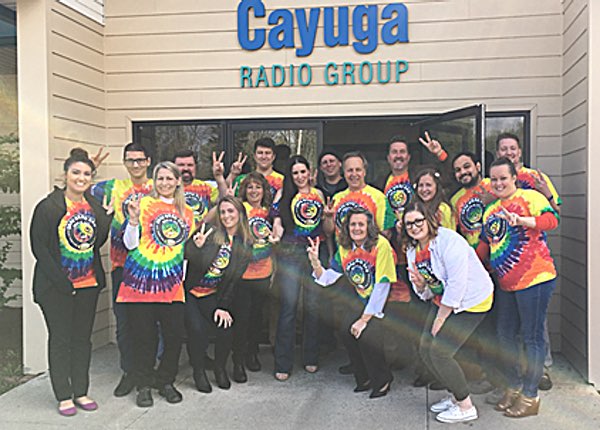 Rock radio station WIII-FM (I-100) celebrated the 40th anniversary of the Grateful Dead's iconic Barton Hall (Cornell University) show from May 8, 1977 with some creative programming and promotions.
Ithaca Mayor Svante Myrick proclaimed 5/8/2017 as 'Dead Head Day' in Ithaca, and along with the radio station, encouraged people to wear tie dye shirts to work. Even the staff of Cayuga Radio was in full force rocking their custom shirts to mark the occasion.
Rhino Records recently released the digital remastered version of the legendary Barton Show and the local (Ithaca's State Theatre) played host to one of the few record release parties in the United States. The release party was completely sold out, with over 1600 attendees enjoying both set 1 and set 2 of the original 5/8/77 show, along with a book signing by author Peter Connors ('Cornell '77: The music, the Myth, and the Magnificence of the Grateful Dead's Concert at Barton Hall'.)
Dead tribute band Terrapin Station, as well as photographer Jon Reis, who shared original photos from his work while acting as the official photographer from the evening 40 years earlier.
"On the air, we mixed in some great Dead tunes, had many listeners share stories from their being at the original show, and it made for really great radio," said Kat Walters, Brand Manager and on air host at I-100. "This show is widely considered as the absolute best by many Dead fans, and it's a part of the fabric of Ithaca's history and radio really put the Dead back on stage, magically and beautifully…40 years later."
v13i19