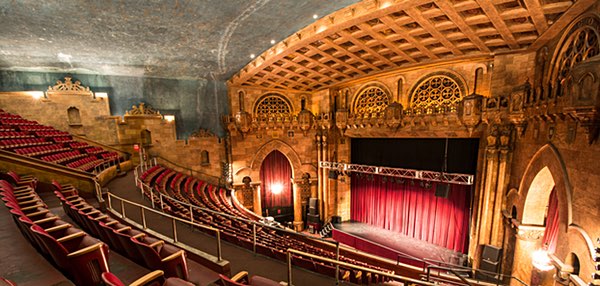 The State Theatre Family Series kicks off Sunday, October 8th with My Father's Dragon. Based on the beloved book series by Trumansburg resident Ruth Stiles Gannett, Enchantment Theatre Company is delighted to bring these enchanting books to life on the State Theatre stage. Using puppets, masks, inventive scenic effects and original music, your whole family will enjoy a story of a compassionate and courageous young boy and his unlikely friendship with a splendid yellow and blue striped dragon. This show is sponsored by Northeast Pediatrics and Adolescent Medicine, Ithaca Community Childcare Center and the community partner is The Family Reading Partnership.
On March 18th 2018, The State Theatre Presents the Theatreworks USA Production of Freedom Train. Freedom Train tells the thrilling story of Harriet Tubman, the Moses of her people, in a fascinating series of highly theatrical scenes that use dance, dialogue, and music of the period. Songs include 'Follow the Drinking Gourd,' 'Steal Away,' 'Wade in the Water,' 'Good News, the Chariot's A-comin',' and many others still sung today. Freedom Train is the story of self-sacrifice, dedication and survival, laced with warmth and a sense of humor that celebrates the human spirit -- a universal story for all. This show is sponsored by Northeast Pediatrics and Adolescent Medicine with The Greater Ithaca Activities Center (GIAC) as the community partner.
Finally, on Sunday, May 20th 2018 – The cherished story book Charlotte's Web comes to life on the State Theatre Stage. Theatreworks' production of Charlotte's Web is based on E.B. White's loving story of the friendship between a pig named Wilbur and a little gray spider named Charlotte. Wilbur has a problem: how to avoid winding up as pork chops! Charlotte, a fine writer and true friend, hits on a plan to fool Farmer Zuckerman -- she will create a 'miracle.' Spinning the words 'Some Pig' in her web, Charlotte weaves a solution which not only makes Wilbur a prize pig, but ensures his place on the farm forever. This treasured tale, featuring mad-cap and endearing farm animals, explores bravery, selfless love, and the true meaning of friendship. This show is also sponsored by Northeast Pediatrics and Adolescent Medicine.
v13i32