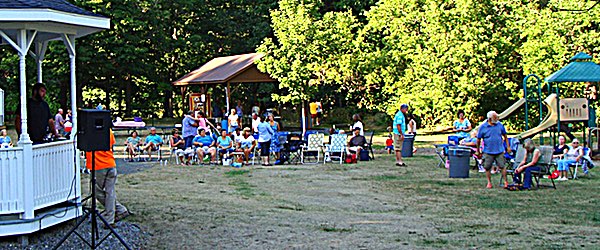 Lansing Supervisor Ed LaVigne said he is outraged at anti-Semitic graffiti found carved into playground equipment in Ludlowville Park. Councilwoman Katrina Binkewicz alerted LaVigne to the vandalism Wednesday after seeing a post from a Ludlowville resident on an online chat board. She obtained a picture of the damage, and asked the Parks and Recreation Department to investigate. The graffiti was immediately removed as soon as it was located.
"When you insult one religion you insult all religions," LaVigne said Wednesday. "Anybody who is a religious person should take offense at this. There's no way that Lansing condones this. If anything, we are an accepting, loving, inclusive community."
At first the Parks and Recreation staff were not able to find the images, but on further investigation they found it etched into the playground equipment, including a Jewish star with a line scratched through it and other defamatory graffiti, as well as an older 'Sons of Anarchy' symbol.
"They were able to remove an older painted symbol with some graffiti remover we have, and they sanded out items on the playground equipment," Binkewicz said. "That implies it was a kid doing it -- it doen't mean its not terrible. I want to make sure our townspeople are focused on what it means to love each other and be neighbors. Any time images of that sort are perpetuated in a community it's a terrible thing. And it should wound everybody, not just the people it was meant to wound."
Binkewicz says Governor Andrew Cuomo's hate crime hot line is a positive thing, saying people who commit hate crimes should be identified.
"Make no mistake: When you attack our Jewish community, you attack all New Yorkers," Cuomo says in an email blast he sent to constituents Wednesday. "And I vow that we are doing everything in our power to catch those responsible for these anti-Semitic attacks. In an effort to combat the rise in these attacks and other bias-related discrimination, my administration is investing $25 million to boost safety and security at New York's religious schools and daycare centers. Children should not be under threat because of their school's ideology, beliefs or mission."
He urged New Yorkers to text 'HATE' to 81336 to report incidences of discrimination.
The disturbing incident comes at a time when Lansing High School is embracing tolerance with its production of Hairspray, a musical that challenges racial discrimination. Director Cindy Howell said that although the play takes place in the 1960s, it is, unfortunately, still relevant today.
"The way the world is right now, we need to talk about these things," Howell says. "We need to talk about the fact that many years ago there was a man named Martin Luther King, Jr. who started this whole thing about making us think about each other in different ways than we had before. Well, here we are in 2017 and we're still having the same issues."
LaVigne says Lansing embraces all people, and that there should be no tolerance of hate crimes in the Town.
"I've met with people who are building a mosque in the Village of Lansing," he said. "I have also met with my Jewish friends. I have an ongoing dialog with people of many faiths. When someone does something like this it's insulting to everyone. I hope that whoever has done this is brought to justice and is shown no mercy whatsoever."
v13i9