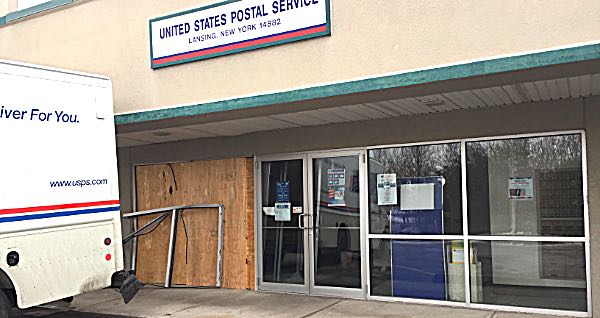 When a Jeep Cherokee smashed into the Lansing Post Office in January United States Postal Service (USPS) officials saw an opportunity to increase service to the Lansing community by opening the PO Box lobby 24/7 instead of the four hours a day it had been available. But Lansing customers have been waiting since late February when the branch was reopened. A USPS spokeswoman says that 24/7 access to the box lobby is still coming.
"The U.S. Postal Inspection Service assessment did provide a short list of items to correct," says Karen Mazurkiewicz. "Those items have been taken care of and now we are just waiting for their final approval. We hope the change will occur soon as we are as anxious as the community to provide 24 hour access."
Around 4:30pm on December 23, 2016 a Jeep Grand Cherokee smashed through the glass storefront, and rocketed into the back wall of the storefront, damaging the counter area, the partition between the counter area and the box lobby, and portions of the box lobby. A USPS employee, the only person in the facility at the time, was working behind the Post Office boxes, so escaped being hit by the out of control vehicle.
Because considerable construction was required to restore walls, a mail drop box, service counter, etc. a decision was made to shore up the walls surrounding the PO Box lobby, making them secure enough to meet USPS standards for keeping that portion of the post office open all the time. That work was completed a week before the end of February, but USPS regulations require the facility be inspected before the service can be offered.
Local postal officials are now waiting for final approval after a punch list of items was addressed following the inspection.
v13i26