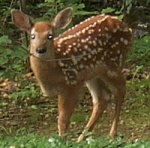 Village of Lansing Deputy Mayor Lynn Leopold reported Monday that the Village Deer Population Management program has ended for the season.  She says total number of deer taken in the Village is down this year, as is the number of automobile accidents involving deer.
"We had fewer deer this year, probably because we're beginning to make a difference," said Deputy Mayor Lynn Leopold.  "In our program we had 41 adults and eight fawns.  37 does and 12 bucks.  So that's good: we're getting a lot of does out of our population."
56 deer were taken this year, including 49 in the Village managed program and another seven in a private resident's hunt.  16 stands were used in the Village program.  The extended Deer Management Focal Area season in January was so cold that hardly any hunters went out, so only two deer were taken, 16 fewer than were taken during the extended season last year.
Last year a total of 76 deer were taken with 67 in the Village-run program and nine in the private hunt that is not part of the Village program.  The Village program also benefitted from a 'Deer Management Focus Area' season in January during which 18 of the 67 deer were taken.  Mayor Donald Hartill says that the program apears to be somewhat effective because the number of deer/auto collisions was down in the Village last year.
Bow hunting is the only kind of hunting permitted by the Village.  The population management program was begun in 2007, and has been closely controlled by Village officials since its inception.  Hunters must apply to the program coordinator and follow strict rules governing the hunt.  Permission must be granted by property owners before a hunt can take place on their property.  Because the law requires 500 feet between hunters and structures, it sometimes takes several properties to create a large enough space to conduct the hunt.
Leopold said that Governor Cuomo is recommending a reduction of the minimum discharge zone be reduced from 50 feet away from buildings to 150 feet.  She said that is logical for bow hunting.  Shooting firearms is not permitted in the Village.
"Of course safety is absolutely primary," she said.  "I'm sure that the State has heard plenty from people on both sides of the issue."
The said Village Deer Management Coordinator Dr. Bernd Blossey will address the Trustees on a later date to provide guidance for updating Village laws that impact hunting.
v10i5