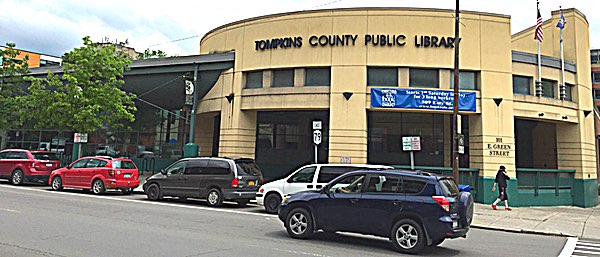 The Legislature tonight held its annual Community Budget Forum, inviting residents to learn about and comment on the County's recommended 2018 budget currently under review by the Legislature.
About 18 people attended, and ten of them spoke during the hour-long session—seven speakers praising the Tompkins County Public Library and urging support of its funding request for an additional Youth Services Librarian. The Library seeks more than $65,000 in over-target funding to restore the 30-hour position.
School librarians for Enfield and Caroline schools both entered comments in the record about the positive impact the Library has had on students through partnerships with their rural districts. Anneliese Truane, of Ithaca, also said she and her nine-year-old daughter have "a passion for the library," especially the "amazing librarians that bring the collection to life," noting the added librarian would help fill what she sees as a slight age gap for older children. Teenager Magda Smith said the Library, including its Youth Services department, has been important to her—always providing help, and being "an accepting, kind, and safe space," which she said is especially important for LGBTQ teens.. Troye Platt said the Library has been "a real home away from home" for her and her two home-schooled daughters—who both chimed in with support. "I love the Library! They've helped me in so many ways," said Maya. Her sister Elena added, "I'm grateful to the library. It feels good to have a book."
Kathy Servoss, chair of the County Youth Services Department advisory board, urged support of that department's three over-target requests—a 2% cost-of-living adjustment for agencies contracting through Youth Services, at the level of support for other County agencies in the recommended budget; funding for youth worker training; and to support community mini-grants related to the "Achieving Youth Results" program.
Former long-time legislator Frank Proto, one of the County's representatives on the TCAT board, spoke in support of shifting the County's recent supplemental $50,000 in funding from one-time to ongoing funding, and he urged the legislators who represent City of Ithaca districts to ask Ithaca's Common Council to do the same. He also addressed the issue of Housing—asking, in part, that the County's housing initiatives include development of a system to monitor rental vacancies in the county, as well as a way to measure impact of workforce housing initiatives and monitor how many in-commuters become county residents.
Another former legislator, Mike Koplinka-Loehr, who is running for office again this year, praised the County for its budget process, and spoke in support of four over-target requests aimed at reducing Jail population as recommended in the CGR report: funding to support an additional Senior Probation Officer; to hire an additional Jail nurse; provide first-year funding for a Criminal Justice Coordinator position; and underwrite a Sequential Intercept Mapping consultant to assess reentry services coordination. He also spoke in support of funding to initiate a Public Administration Fellows program in county government.
Legislators meeting as an Expanded Budget Committee will begin to recommend modifications to the administrator's budget on October 10, the first of as many as three voting meetings before the budget formally advances to the Legislature.
Administrator Joe Mareane's Recommended Budget supports total expenditures of $179 million (an increase of 1.6%) and local dollar spending of $86.6 million (an increase of 1.0%). It meets the Legislature's 2018 budget goal of a 2.4% increase in the County property tax levy, and is well below the County's projected 3.53% tax cap. The property tax rate will go down again in 2018, to $6.58 per $1,000—a reduction of 0.7%. Under the Recommended Budget, the County property tax bill for the owner of a median-valued $178,000 home would increase by $12.
v13i39