When my daughter and I first drove to Florida some years ago, we endured a nightmare snowstorm in Virginia that trapped us in a Twilight Zone scenario on US Route 95 until 4am when we finally emerged from snow to rain near Richmond. After a few hours sleep we made it to the Santee area near Lake Marion in South Carolina, where we went to sleep early to recover from our ordeal. The next day we walked into a local Waffle House, the first Waffle House for we two Yankees.
A woman behind the counter welcomed us warmly and loudly. We had never felt so welcome in our lives. And while I'm not going to say Waffle House has top of the line gourmet cuisine, that woman made us Waffle house fans for life. To me the coffee is barely drinkable, but the waffles are good. Another woman in another Waffle House made me the perfect waffle once. What a great way to start a day. It turns out waffles aren't the only thing the restaurant chain is good for. FEMA uses a "Waffle House Index" to gauge how challenging it will be for an area to recover from natural disasters. Really. The 'Waffle house Index' is a thing.
Creating the index is Former FEMA Administrator Craig Fugate's claim to fame. Last year he appeared on 'Wait, Wait, Don't Tell Me', the NPR news quiz show, and quiz host Peter Sagal asked him about it: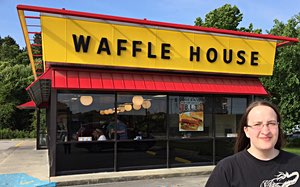 "If the Waffle House is open, everything's good," Fugate told him. "They are open most of the time. And that was the index. If a Waffle House is closed because there's a disaster, it's bad. We call it red. If they're open but have a limited menu, that's yellow... If they're green, we're good, keep going. You haven't found the bad stuff yet."
It takes a lot to close a Waffle house. The restaurants brings in extra supplies before a storm, and reportedly take pride in staying open when most other establishments close. I think we're about to see just what 'a lot' looks like in Florida this weekend.
According to a USA Today article published yesterday, "Pat Warner, spokesman for Waffle House, said 40 Waffle Houses around Houston were affected by Harvey. The company expects about 250 restaurants to feel the impact from Irma."
That's bad. Very bad. Red on the FEMA scale. Bright screaming pulsating scarlet!
Almost all Waffle Houses are in the southeastern portion of the United States, so we can't use the index here in Tompkins County. But as Lansing bicentennial Celebration organizers sweat the uncertain forecast for tomorrow (first the forecast is for sunny, then for rain, then for sunny... it's been going back and forth for days), it's a pretty good bet that we'd have a green Waffle House rating for the day. So whatever happens, we should bring umbrellas, enjoy the carnival and the parade, and count our blessings.
v13i35