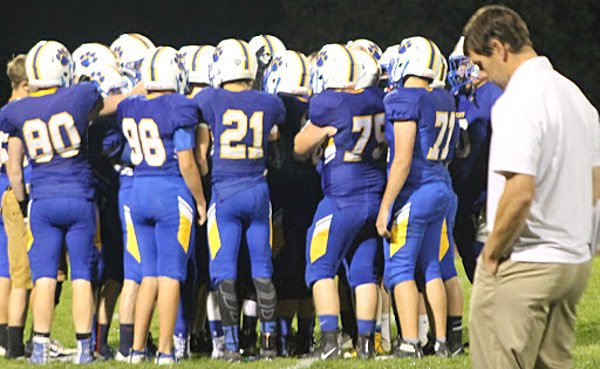 First year Varsity football coaches Brett Hotchkiss and Miles Levesque are teamed as co-head coaches for this 2017 campaign. Along with Assistant coach Matt Hartz all three will be able to bring their experience and enthusiasm for the game to each of the 23 players on the roster.
The first game was a trip north to Moravia on a sunny Saturday. Lansing won the initial coin toss and opted to begin with the defense and kicked off to start the season. Garrett Bell booted the football deep and pinned Moravia down early. This set up excellent field possession for the Bobcats first possession of the season that resulted in a 29 yard scoring run by Luke Winslow. Darryl Fleming reached the end zone just before half to give the Cats a 23-14 lead.
Good conditioning efforts in the preseason was evident in the fourth quarter which was controlled by Lansing en route to the 43-26 final score. For the game Joe Miller-Labar hauled in a 46 yard TD reception and had an 80 yard TD run. Fleming led all rushers with 144 yards. Miller-Labar tallied 95 on five carries and Winslow had 60 yards on seven. Quarterback Garrett Bell was four of six passing for 146 yards. Kyle Nickerson was popular with the PA announcer throughout the contest on the defensive side of the ball and Fleming and Griffen Nelson posted over 15 tackles each.
Regarding the Moravia game Coach Hotchkiss stated "Overall, we have a lot of room for growth, but it was certainly good to come home with the win our first time out. Defensively, we were able to produce some timely stops, which put our offense in short field positions"
Friday night in Lansing the football Bobcats took on the Eagles of Whitney Point. Quarterback Garrett Bell scored on a one yard run less than two minutes into the game. Eagles QB Andy Davis started his productive game by scampering 60 yards for the tie. A fumble recovery by Mike Lapar set up a fourth down 23 yard scoring pass from Bell to Joe Miller-Labar. This connection continued on the next drive with a 33 yard hook up. Darryl Fleming capped the drive with a 10 yard run. The point after kick by Bell gave the Cats a 21-6 lead at the end of the first quarter. Bell intercepted a ball to halt a Whitney Point scoring threat and Luke Winslow took the first ensuing play 71 yards for a score. Joe Miller-Labar had a 39 yard TD catch going into the half.
The second half was managed well by the Bobcats. The running game of Fleming, Lapar, Winslow and Miller-Labar required solid efforts up front with the offensive line of Kade Bennett, Griffen Nelson, Alex Powers, Aidan Allison and Kyle Nickerson. Nelson and Fleming had 10 and 7 solo tackles respectively. Bennett and Powers provided good defensive push throughout. Miller-Labar highlighted his offensive night with a 69 yard kick off return. Rushing statistics had Winslow 8 x 136, Fleming with 16 x 130, Lapar 6 x 47, Miller-Labar 4 x 47. Bell was 3 x 4 passing with 54 yards. The Bobcats were victors 47-18 and next take on the reigning NYS Class C Champions of Newark Valley on Friday at home.
In getting ready to prepare Coach Hotchkiss stated "Our goal each week is to improve in every aspect of the game. We will review this game and identify the areas that we need to improve on next week."
v13i36