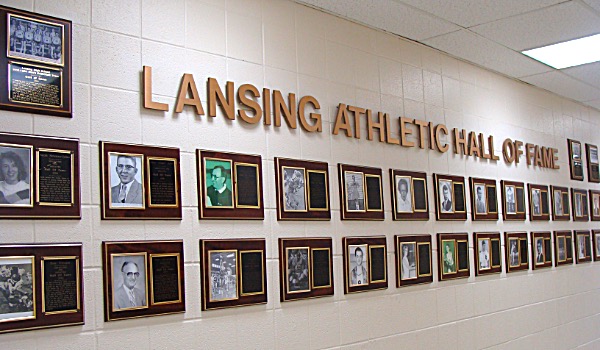 Lansing Central School will induct two athletes and a coach and one team into their athletic Hall of Fame on Saturday night, November 25, 2017 at the Lake Watch Inn. The 2017 Hall of Fame Class will include athletes Danielle Smith and Tom Neubert, along with Coach Adam Heck. The 1998 Boys Soccer Team will also be inducted.
Danielle Smith, a 1993 graduate, was an outstanding swimmer for the Lansing Swimming and Diving team. During her varsity career she set 103 swimming records. She set 39 pool records, 22 school records, 19 league records 7 IAC Championship meet records, 9 Section IV Class C Sectional meet records and 4 Section IV records. Danielle swam four years at Syracuse University, where she captained the team as a senior. She was a finalist all four years at the Big East Championship meet.
Tom Neubert was a five time letter winner for Lansing, earning 3 in football and 2 in baseball. Neubert helped Lansing to a three year record of 21-5-1 on the gridiron and a 40-6 record on the diamond. He was a two-time 1st team IAC All-Star in football. He captained the team as a senior. He was a two-time 1st Team IAC All-Star in baseball. His career batting average was .426. He was the Bobcats baseball captain as a senior. Following his graduation he played baseball at Cortland State where he compiled a pitching record of 14-1. He was a two time 1st Team SUNYAC All-Star and the ECAC Pitcher of Year his junior year. Neubert went from playing to coaching and in 16 seasons has compiled a record of 381-221, which includes 13 Sectional titles, 3 Regional titles and two Ohio State Baseball championships.
Coach Adam Heck is being inducted for an outstanding coaching career. Heck guided the Boys Soccer team to a 303-77-19 record over 20 seasons. His teams have won 11 IAC Divisional titles, 8 Overall IAC titles, 8 Section IV Class C titles. Five times his teams have played in the NYSPHAA semi-finals and were in the NYS finals on 3 occasions in 2004, 2012 and 2013. Heck guided Lansing to the State Final Four in Boys soccer four straight years, from 2011 to 2014. Heck's basketball record was 181-105 while winning 6 IAC Division titles and one Over-All IAC Championship. Heck was recognized by the National Soccer Coaches Association of America, as the NY State Coach of the year in 2007 and again in 2012. The National Federation of High School Associations chose Adam as the NYS Coach of the year in 2013. He was their runner-up choice for the National Coach of the Year in 2012.
The 1998 Boys Soccer team was the first soccer team in school history to win the Section IV Class C Soccer Championship. The Bobcats finished the regular season at 12-2-4. They then went on a 4 game win streak, starting with a 2-0 win over Oxford, the small school champion in the MAC. The Bobcats defeated Newark Valley, the IAC Large School Champion 4-0. A 2-1 overtime win over Greene, the #2 ranked school in NYS and the Champion of the MAC League. Next was a 1-0 win over Southern Cayuga, the IAC small school champion. The Bobcats then moved into Regional play and the Section III champion Hamilton. The Emerald Knights entered the game with a 17-1-1 record and a #3 state ranking. Hamilton prevailed 3-1. The Bobcats finished with a 16-3-4 record. They outscored their opponents 61-27 and a #6 ranking in the final NYS Class C Soccer poll. The team was coached by Adan Heck, The assistant was Josh Lacey. The team captains were Jamie Maywright and Ben Hardie.
v13i43