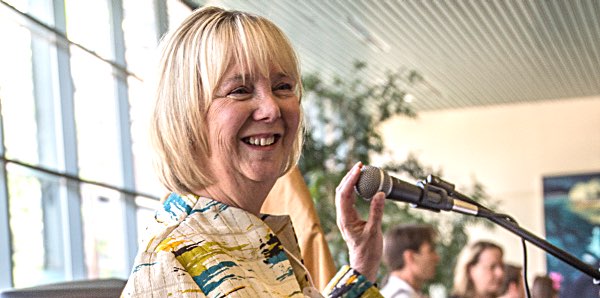 The Discovery Trail honored Susan Currie October 13th with the Explorer Award during her retirement celebration as Director of the Tompkins County Public Library. The purpose of the Discovery Trail Explorer Award is to recognize individuals who have made a significant contribution to the Discovery Trail through their service. Currie, was honored for her extraordinary leadership in education during her eight years of service to the Discovery Trail board. Previous Discovery Trail Explorer Award recipients include: Terry Byrnes, Roy Park, Kim Fontana, Don Rakow, Jennifer Engel, Frank Robinson and Charlie Trautmann.
"The Discovery Trail Explorer Award is a perfect tribute to Susan's time at the Tompkins County Public Library," said Suzanne Smith Jablonski, Executive Director of the Tompkins County Public Library Foundation. "Nowhere was Susan's commitment to equal access more evident than in the Kids Discover the Trail! Program. Welcoming the community's kindergarteners to the Library and setting them on a path for a lifetime of excitement about reading and learning was a highlight of her experience as library director. Those of us who were fortunate enough to work with Susan have always been, and will continue to be, inspired by her dedication."
Originally known as the 'Partnership for Lifelong Learning', this unique partnership between the Cayuga Nature Center, Cornell Botanic Gardens, Johnson Art Museum at Cornell, Cornell Laboratory of Ornithology, The History Center in Tompkins County, Museum of the Earth Sciencenter and the Tompkins County Public Library has attracted national attention as a model for something that not-for-profit organizations don't always do very well: collaborate. The Discovery Trail promotes awareness of participating organizations' programs and collections to the broader Ithaca community and across New York State to help foster understanding of the connections among art, history, literature, science, and the natural world. The Discovery Trail's collective vision is of a community where curiosity flourishes and every child, community member, and visitor enjoys opportunities to explore science, nature, and culture.
v13i42