Motorcycles are everywhere.
You see those blue signs everywhere beginning in March – no matter how cold it is. 
Being a biker is a combination of rebellion, fantasy, freedom with just a touch of insanity thrown in. Now imagine an event that draws tens of thousands of bikes to one little town, roughly the size of Groton.
In this case, it's Lake George, NOT Disney, that is the happiest place on earth.
Many Americaders plan their whole year around their visit to the beautiful lakeside village to enjoy the scenery, the warm and friendly people, and the fabulous number of thundering bikes. If you want quiet, you can ride a mile or so in any direction (except South) and find yourself in the enveloping quiet of the Adirondack Mountains.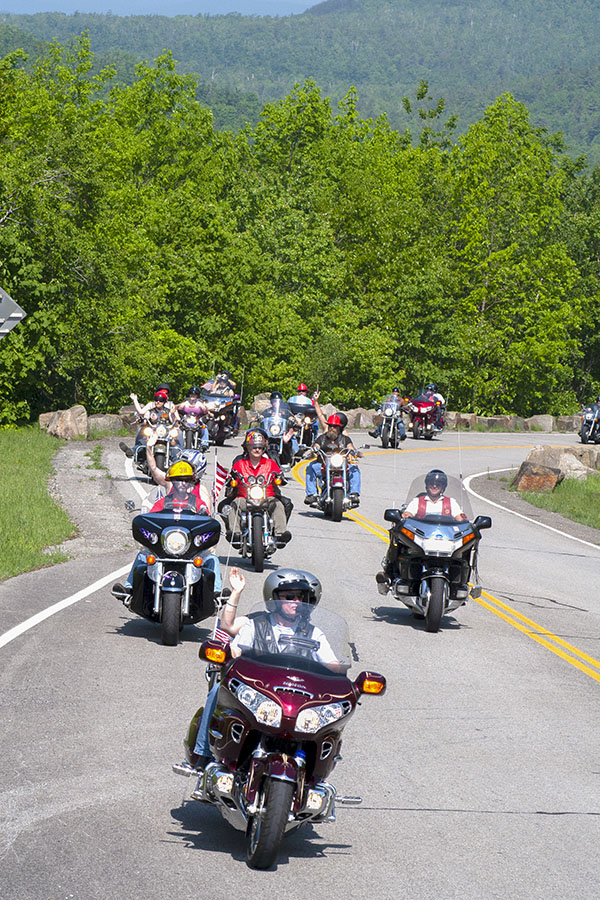 My association with
the Americade
began in 1992, when I limped my Suzuki 400 Thumper (single cylinder, kick start) bike up to the rally. I also began to appreciate the fraternity of souls that make up the biker community. I was by myself, tool kit on my lap, desperately trying to repair the electrical system of the bike when the iconic Harley rider, leather hat, tattoos, leather vest with the beer gut hanging out sauntered up and with a gravelly voice said "Trouble with your bike? Maybe I can help."
Moments later, a man who could be best described as a timid accountant glided up in his massive Gold Wing. "May I be of assistance?". We were subsequently joined by a hippie, a couple wild young ones, a gray haired wise man and more – people I would never have associated with in my "normal" life – yet here we were, sitting in a circle, laughing, talking, and all of them doing their best to help a fellow biker get going again. My friend Rob, who I met while we were performing opera back in the 80's, introduced me to this event. I'll be forever grateful for that introduction.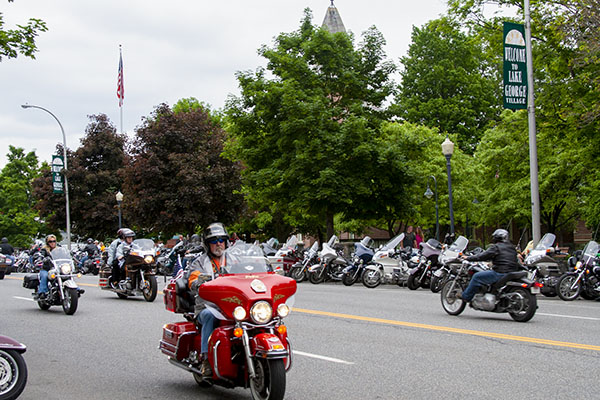 This year was, I believe, the 46'th Annual Americade, bigger and better than ever. Lots of tours – both guided and unguided – through the Adirondacks, Western Vermont and to many fun points of interest. Fort Ticondoroga, Whiteface Mountain, the ferry across Lake Champlain. Each tour had as part of the ride, a stop at an Adirondack restaurant and a point of interest.
No, this won't be a catalog of the cool stuff you can do at Americade – the BEST part is the people we meet. This year Janet and I met with a beautiful soul who was staying at the Lake George Inn a few doors away. He is a retired professor from Tufts University (he taught Swahili and German) and is, I found out later, is a Pastor. He said "Nice people tend to meet nice people…" and we talked for hours.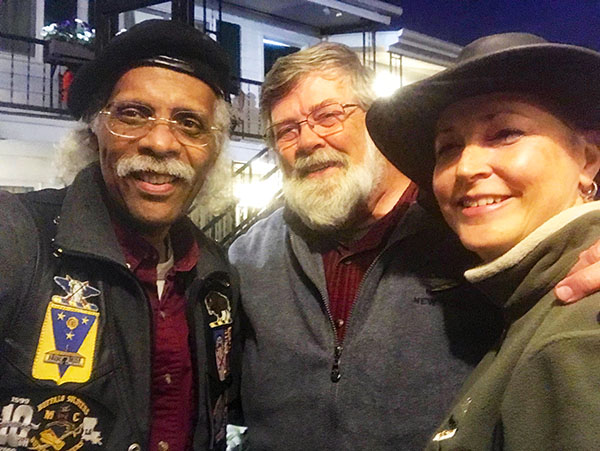 The last bit – during bike week with the many thousands of motorcyclists in a small area, you'd think that the police would be busy with the rowdies. Nothing could be farther from the truth. The people who work in Lake George refer to Americaders as "the kindest and most polite group we see here all year." Maybe the rowdies go to Sturgis…
Do you ride? The Americade might be a great time for you. If I can get there, it's surely within reach for you! By the way, Hakuna Matata really DOES mean "No Worries" in Swahili. And it's even pronounced correctly. You learn something new every day…
---
'Within Reach' highlights the food, wine and fun of places 'within Reach' of Lansing NY. Of course, your reach extends exactly as far as you want it to. I am
Monroe Payne, Uncle Monte
to some. Come with me as I visit, taste and play in our own back yard, the beautiful Finger Lakes of Central New York.

v14i23