For many years, Janet and I have come to the Americade, a motorcycle rally for touring adults – not Daytona or Sturgis-ish – a little more sedate and oriented for folks like us. There are a few crazies here, but we try to avoid them as much as possible.
Neither are we in to the bar scene or night life. Bed time for us is usually 9PM. Not exactly jet set partiers, but we know what we like. Good food and good rides. Lake George seems to be lined with eateries of all kinds from Japanese to Vietnamese, French, Italian, German and everything in between, especially including American Lumberjack.
Within walking distance of the Lake George Inn where we are billeted for several days, is the Tamarack Inn. Set on Canada St at the North end of Lake George Village, it is one of the best breakfast places anywhere.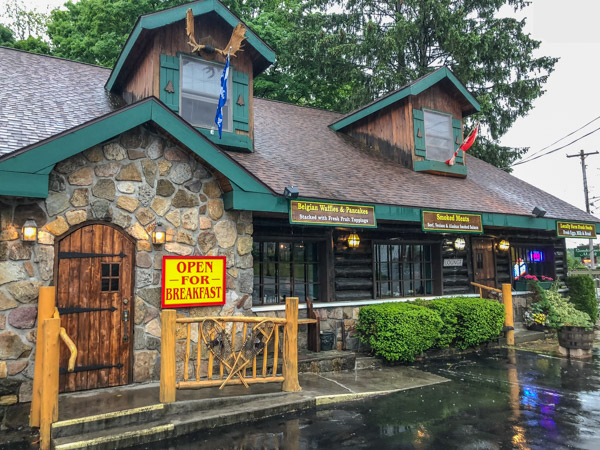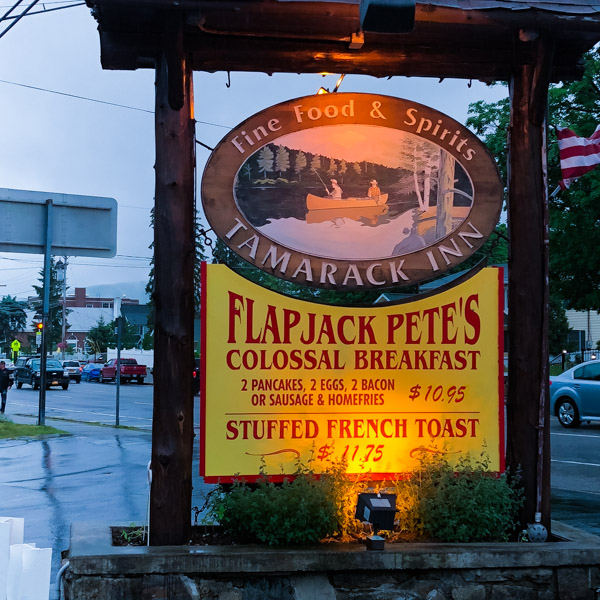 Our waitress Tina greeted us, wet from our walk through the rain and showed us to our booth.
On the front of the menu is the Legend of Flapjack Pete which must be read out loud to be completely appreciated – so I did to the amusement of Tina and those nearby. Some things just have to be out loud…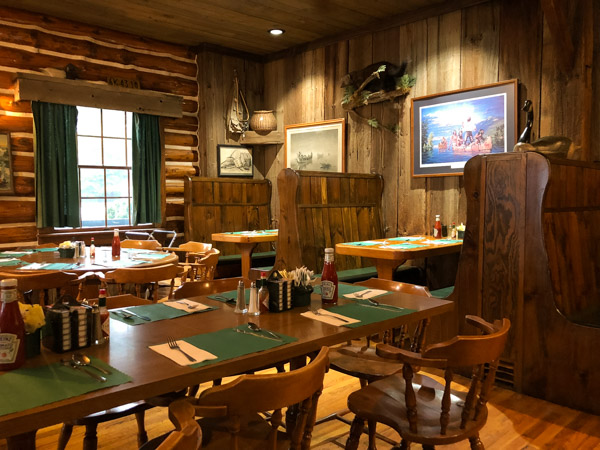 The place is completely rustic, lumberjack-ish and warm. The coffee is wonderful and adds to the ambience, especially when you're cold and wet.
Servers make a restaurant. Some are all business, some disappear when you need them, but the really excellent ones take an interest in their charges, listen to their stories, learn their names – all while doing their jobs flawlessly. I can't speak to the rest of the staff, but Tina is in the excellent category.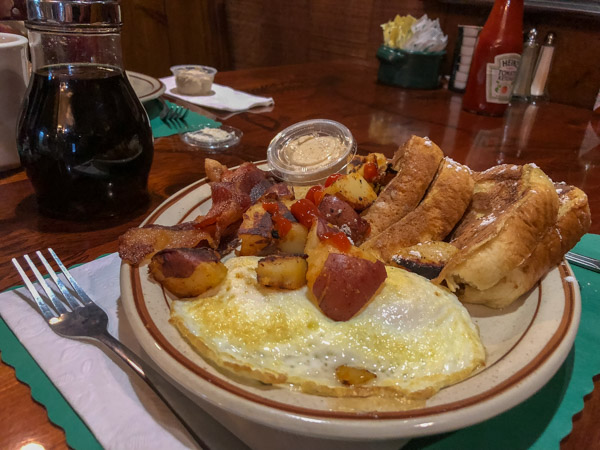 Flapjack Pete's Colossal Breakfast was everything I expected, thick bacon, eggs done once over like I requested, good chunky home fries, and a set of thick French toast. The cinnamon and honey butter was an amazing touch, adding to the complete package.
Our breakfast was gentle on the wallet - $25 plus a generous tip for Tina – and worth much more.
2 mornings here in Lake George to go. We may have to go back… After all, it's within reach…
---
'Within Reach' highlights the food, wine and fun of places 'within Reach' of Lansing NY. Of course, your reach extends exactly as far as you want it to. I am
Monroe Payne, Uncle Monte
to some. Come with me as I visit, taste and play in our own back yard, the beautiful Finger Lakes of Central New York.

v14i22