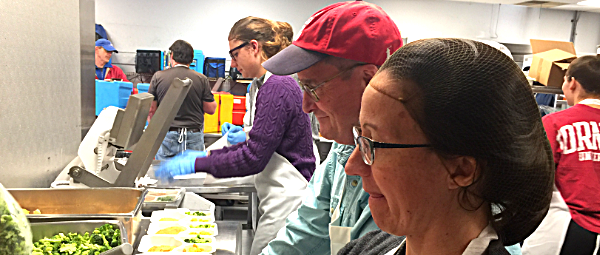 During these times of uncertainty, providing emergency meals to our older adult neighbors is critical. Through emergency funding from United Way of Tompkins County, Foodnet Meals on Wheels has been able to immediately provide a safety supply of 8,750 meals to an estimated 625 older adults and others in need.
"My greatest concern a week ago was that, should anyone in the Foodnet community test positive for or even be exposed to COVID-19, we will see a service disruption, " explained Jessica Gosa, Executive Director of Foodnet. "This funding and the frozen meals we are preparing to deliver today ensure that Foodnet clients will have access to adequate nutrition in the event of service disruptions related to Coronavirus."
Foodnet's services provide food security to individuals living with some of the greatest health disparities in Tompkins County. The vulnerability of those served is significant: approximately 50% of Foodnet clients are considered moderate-high nutritional risk, and 60% are considered frail or disabled. Should anyone in the Foodnet community, including staff, volunteers, and clients, have a positive COVID-19 case or be exposed to one, the daily meals provided by the program would be interrupted. Therefore, Foodnet's emergency plan called for the delivery of frozen meals to insure their clients would still have access to daily, nutritious meals. However, the Foodnet operating budget did not include this expense, and the recent cancellation of Foodnet's "Mac and Cheese Bowl" out of community health concerns made funding even tighter at a time of additional and unexpected need. Fortunately, Gosa recalled that UWTC has a fund established to meet emergent needs, and reached out to apply.
James Brown, UWTC President & CEO explains, "The T. Merrell Shipherd Fund will be our vehicle for responding to COVID-19 service emergencies experienced by community partners and their consumers. Named in honor of the longstanding United Way executive who served the community for over 40 years, the fund was established over a decade ago and redesigned in the past three years. The Shipherd Fund accepts applications on a rolling basis with a normal response time of four to six weeks. Given the current unprecedented circumstances, United Way volunteers and staff have established an expedited process for applications that are related to COVID-19."
TMS Fund Committee Chair Brian McNeal of Tompkins Trust Company, shared: "In the case of Foodnet's application, the group needing services represents one of the most vulnerable for bad outcomes from the COVID-19 virus. Providing healthy meals can only help in an attempt to improve the possible outcomes."
v16i12