By

Foodnet Meals on Wheels

Around Town

Print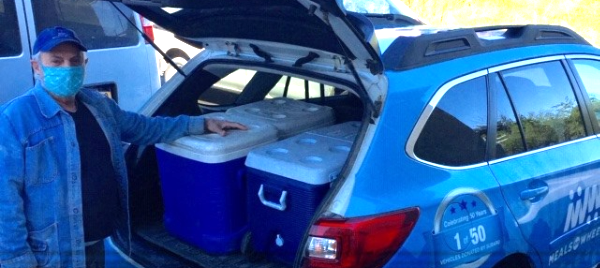 During this time of uncertainty, ensuring that our older adult neighbors have access to adequate nutrition is critical. Foodnet Meals on Wheels has been experiencing a 12% increase in demand for services during the pandemic. Through emergency funding from Meals on Wheels America, Foodnet will be able to continue their efforts to creatively respond to the pandemic in Tompkins County. Funding will be used to purchase and install an external freezer to increase food storage capacity, replenish food and supplies for additional emergency meals, subsidize meal delivery equipment, and personal protective equipment.
"Like many organizations and businesses, we have had to quickly pivot our operations during COVID-19. However, the sustained increase in meal production for routine delivery and emergency meals has put strain on our operations in terms of food storage, maintaining safety requirements with costly PPE, delivery equipment, and food expenses. With additional funding, we will be well-positioned to safely produce, store, and deliver additional emergency meals throughout the pandemic, explained Jessica Gosa, Executive Director of Foodnet Meals on Wheels."
Meals on Wheels America, Foodnet's national affiliate, has distributed over $31 million dollars directly to local Meals on Wheels programs across the country to continue to serve as a critical service for older adults throughout the pandemic. Funds have been distributed on a rolling basis though a needs-based grant program.
Foodnet Meals on Wheels has been working side by side with the Tompkins County Office for the Aging (TCOFA) during COVID-19 as TCOFA's largest subcontractor.
Lisa Monroe, Director of the County Office for the Aging explains, "the pandemic has amplified the need for Foodnet's services. By age alone, older adults are vulnerable for poor health outcomes from COVID-19. This project will strengthen Foodnet's ability to respond to another anticipated surge in demand for services during the fall and winter months."
Foodnet plans to continue providing services without a waiting list during this critical time. Funding for this project will give them fuel to continue to be here for those who might otherwise be forgotten.
v16i47