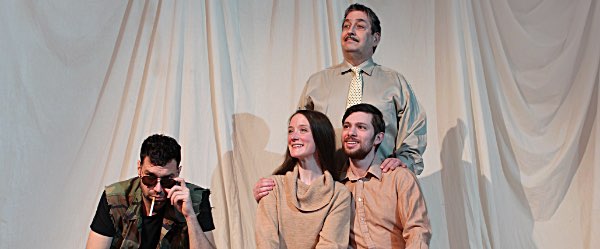 This February 21–March 3, The Cherry Artists' Collective, Ithaca's home for innovative performance, presents its fourth full production of the 2018–19 season. Testosterone, by Rebekka Kricheldorf, is a hilarious and unsparing satire that has seen productions in Germany, Argentina, Mexico, Guatemala, Venezuela and Cuba.
The Cherry is producing the play for the first time in English, in a translation by Neil Blackadder commissioned for this production. Subtitled "a dark parable," the play probes class, toxic masculinities, and the limits of liberal do-goodery in extreme times. The German periodical Nachtkritiken said Testosterone brings "fast-paced antics and multi-layered satire that will not disappoint."
Testosterone opens on Friday February 22nd, after a preview performance on Thursday February 21st, and closes Sunday, March 3rd. Evening performances (Thursdays through Saturdays) are at 7:30pm, and Sunday matinees are at 3:00pm. Performance take place at the Cherry Artspace, 102 Cherry Street in Ithaca.
The Cherry is working on this show for the first time with two iconic Ithaca performers. David Studwell (Rothko in Red and Scrooge in Christmas Carol at the Hangar Theater) plays the patriarch Fabian Klemmer. And Kitchen Theater company favorite Karl Gregory (Santaland Diaries, Fully Committed, Hand To God, Buyer & Cellar, others too numerous to mention!) plays "Bad Son" Raul Klemmer in a role like nothing he has ever performed before.
Testosterone is directed by Samuel Buggeln and alongside Gregory and Studwell features Eric Brooks, Helen Clark, Lucy Gladstone, Benno Ressa and AJ Sage. Environment design is by Daniel Zimmerman, costumes by Liz Woods and Sasha Oliver, and lighting by Shane Hennessy. Special props are being created by Edith McCrea, and Lily Gershon and Matt Ocone of LilyPad puppets.
Playwright Rebekka Kricheldorf will travel to Ithaca from Berlin for the second weekend of the play's run, joined by translator Neil Blackadder from Knox College in Illinois. A public talkback will take place with the playwright and translator after the Friday March 1 performance, and a panel discussion with the playwright, translator and director will take place at 4pm on Monday March 4 at the Schwartz Center at Cornell as part of the World Theater Voices series.
v15i5