By

-Staff

Business Profiles

Print

Some families share special holiday traditions, some share favorite foods and recipes, while others treasure family stories. For Amy Lin and her family, preparing and selling Taiwanese foods at the Ithaca Farmers' Market is a family tradition that's threaded through the generations.
Since its creation in 1973, the Ithaca Farmers' Market has showcased the cultural diversity and talents of local people throughout the area. Currently located at Steamboat Landing on the scenic waterfront of Cayuga Lake on Saturdays, and in downtown Ithaca on Tuesdays, the Farmers' Market is a cooperative venture of about 150 vendors who live within 30 miles of Ithaca. Visitors can buy a variety of locally grown fruits, vegetables and flowers, homemade baked goods, wines and ethnic foods as well as handcrafted items.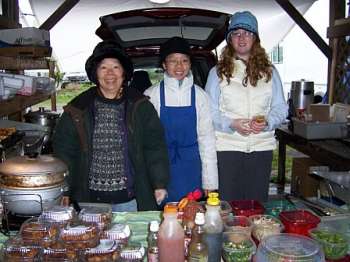 (Left - right) Amy Lin, Susan Lin, Kacy Miller
For thirty years, since 1976, the Lin family has sold their ethnic cuisine to locals and visitors to the area. Amy Lin's mother-in-law originally started the business in Taiwan, and then brought it to the US. Amy took over her mother-in-law's business twenty years ago, and today her daughter Susan is the third generation to continue the family tradition. Amy admits, "You have to have talent and patience." Trained as a nurse, Amy is a knowledgeable nutritionist who understands the importance of healthy eating habits and makes sure her foods are fresh and healthy. To this day, she recalls her mother's advice. "When you do something, you have to do your best. That's what I followed when I was young from what my mother said."
The Lin booth is centrally located within the Farmers' Market and showcases an impressive array of "dim sum": various egg rolls, steam rolls, fried rice, noodle salad and tempura. Whether you're a vegetarian or have a sweet tooth (raspberry egg rolls), there's something you're sure to like. While maintaining the family tradition is hard work, it is also fun. Amy says she enjoys interacting with people, "getting compliments, making a profit and seeing kids grow into adults." She fondly remembers one local couple who moved to Ohio, but revisited the Farmers' Market and her booth for the food. On many occasions, customers have asked Amy to publish her recipes and "one student wanted the egg roll recipe to make everyday." Amy has even heard some parents say they get their children to eat vegetables by eating egg rolls.

Thursdays and Fridays may be the busiest days of the week in the Lin household. Amy regularly wakes up early to make sure her food is properly prepared and fresh. From steaming the dim sum, to frying the egg rolls, to organizing and loading the van early Saturday morning, maintaining a successful booth every weekend from 9 am to 3 pm is an exciting, as well as challenging, family tradition. All the recipes are from either Amy's mother-in-law or her own mother. Amy admits her cooking practices have changed over the years as customers' eating habits have changed. New versions of traditional family recipes have emerged and she now steams many foods that were previously fried.

Maintaining a family business for thirty years is quite an achievement and Amy says she'll retire soon, maybe in five years. Until that time, you can feast on traditional ethnic foods and hearty conversation every Saturday from May through October at Steamboat Landing Ithaca Farmers' Market and become a part of a Lansing family's tradition.
----
v2i17