When you drive around Lansing you are almost sure to see a Duthie Painting Company truck. The company has been in business for more than 40 years, since Bill Duthie graduated from Cornell University with a business degree and decided he didn't want to be stuck behind a desk.
"He started painting when he went to Cornell," says Heidi VanOstrand, who has worked for Duthie for nearly 30 of those years. "He did some other jobs after that, and he decided he didn't want to be in an office setting. He enjoyed the painting part. You're not doing the same job continuously. You may have a job that takes a year to do, but it's not continuous. You move from house to house. You meet new people. You're inside on bad days and outside on great days."
Originally from Smith Falls, Canada, Duthie came to the area for school, and like many Tompkins County residents, stayed. His company does both residential and commercial painting, but mainly residential. They have gone as far as Corning. The percentage of outdoors to indoors jobs varies, depending on the weather. VanOstrand says the mild winter allowed the crews to finish a number of jobs that had been started last summer, but the harsh spring meant not getting to outside jobs they had hoped to begin.
"We do a lot of work for contractors," VanOstrand says. "That's where most of our work generates from. We work with Schickel Construction, McPherson Builders, Latipac Builders, and D Squared Construction."
The company has 10 employees, who are NYS Certified in Lead Abatement. They typically work in at least three crews of two or more, plus individuals work on smaller jobs. Some of the bigger jobs need everyone.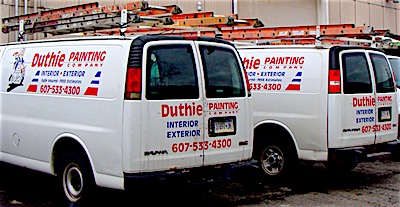 Over the years a lot has remained the same, but some things have changed. VanOstrand notes that oil paint is rarely used in New York State any more. She says the biggest changes have been state laws restricting paint removal, and restrictions on who can be hired.
"You can't hire anyone under 18 any more because they don't want them climbing ladders or using machinery -- sprayers and things like that," she says. "It makes it harder. And it's harder to find good employees, because nobody wants to do physical labor any more. We used to hire hockey players, and IC students from time to time because it worked well with our outside schedule.
There are always surprises, and some unusual challenges. One online reviewer said, "Duthie Painters painted the Victorian cottage on the lake. They had to bring all equipment in by boat. They moved large items off the porch and cut bushes etc around the house. It was power-washed, and wasp nests removed, given a coat of primer and 2 coats of paint, all in 3 days! It was a fabulous job, and the house still looks great, 2 years later!!"
VanOstrand says a new trend is to pre-paint siding at their Ridge Road facility before the builder attaches it to new construction. That includes trim, siding, doors, sometimes windows. Surprisingly they are sometimes called on to repaint metal or fiberglass siding, a new coat or a new color. It has to be cleaned and a bonding agent applied so paint adheres to it. So, contrary to popular belief, you are not stuck with a color forever once you install siding on your house.
In 1997 Duthie started United Storage, which shares a campus with his painting facility on Ridge Road. That has grown to at least 19 buildings at last count, in two Lansing locations (
click here
for related article).
Although it is harder to find good new hires, retention is good. Most of the employees have been with Duthie for at least five years, and one has been there longer than VanOstrand.
"Bill's a great guy to work for," says VanOstrand. "It's like family here."
v12i22