You may have noticed the former auto parts building at the corner of North Triphammer Road and Route 34B has had a makeover.
F & F Custom Construction
has taken over the space and is open for business. The company specializes in custom stone and hard surfaces for counter tops and other purposes. The showroom is still being stocked with man-made quartz products, natural granite from all over the world, solid surfaces such as Corian®, and plastic laminate. Owner Marty French says it's his staff that makes the company special.
"I have a very good staff," he says. "If I send them in I am almost 100% positive they're going to do a great job. Pretty much every employee has been with me for a long time. My guys put their heart and souls into what they do. Everybody enjoys what they're doing. I think that's what differentiates us. When your installers and fabricators and everyone else believes in what they're doing that makes it all that much better. These guys are out there doing everything they can to make their work look better and please the customer as well."
F & F first opened in Johnson City in 1998. In 2008 the company moved to its current Endicott location, which includes a showroom and a fabricating facility. French says that he has a lot of customers from the Lansing and Ithaca areas, and they urged him to open a showroom here, where it would be more convenient. The new showroom is still being worked on, but it is open. A stone desk is the centerpiece of the room with slabs of stone on V-shaped displays. A stone coffee bar is at one side.
French employs three installers and three fabricators. He mans the Endicott showroom, and two women run the Lansing location. Connie has been with his company for some time, and Kelly comes from another local store.
"We're still moving stuff in and out, so the showroom is going to be 'under construction' for the next several years," he says. "We're always changing things. These kinds of things rotate. The coffee bar area is just waiting for the fabricators to bring up and install the pieces."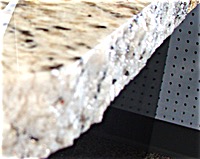 The 'pieces' are, of course, stone surfaces. The showroom desk features a unique mottled edge.
"We're using the showroom to show a lot of creative things that are not necessarily common, like miter folding and things like that we do. It's not just your typical installations," French says. "Our desk has a rock edge, instead of just a regular edge. Some people call it 'chisel edge'. It's a very time consuming edge profile, but it is growing in popularity for outdoor situations, where you want a little more of that natural feel out there. It's softened so it's not sharp."
He says solid surfaces are used for shower walls, and wall surfaces as well as kitchen counters.
"Outdoor kitchens are very popular right now with granite surfaces on deck patios," he says. "We work very well with a landscaper who is doing a lot of outdoor landscaping, so we're hoping more people get into that as well."
Every job is custom crafted. Customers pick the stone they want in the showroom, then installers measure the space in their homes and make a template from which the stone is cut. They then return to the work site to install the surface.
French has experience running computerized cutting equipment, but opts for rail saws with diamond-based blades and water to keep the blades and stone cool.
"We don't have the multi-millions of dollars of equipment that some people do. We keep the cost down and pass it down to our customers," he says. "That's the big thing. We don't have a huge lease payment for a $3 million machine. We have several rail saws that allow us to cut the materials just as quick. The automated equipment is great, but it's irrelevant for the average homeowner. Everybody's so different and not everybody has got monstrous jobs. So we all have to keep our costs down. Why spend $40 more per square foot when you can get it for less, and it's the same thing?"
Born in Alameda, CA, French was raised in Alaska, where he lived for 17 years, doing construction work since he was 13. He learned cabinetry and finish work from his Step Father. He went to college at the University of Washington, then worked for the Department of Forestry in California. He moved to the Binghamton area to be closer to family, which led to construction and custom cabinetry, which he did for a Vestal business. While doing that he became certified to work on Corian, which led to quartz, natural granite, and the rest. The solid surface industry was big in the late 90s, but French says that it has been replaced with white granite and marbles because they are promoted on HDTV.
"When stone becomes the big one on TV, that becomes what everybody wants to have," he notes. "So you've got to switch your market. I learned the stone back in 2000, and went from there."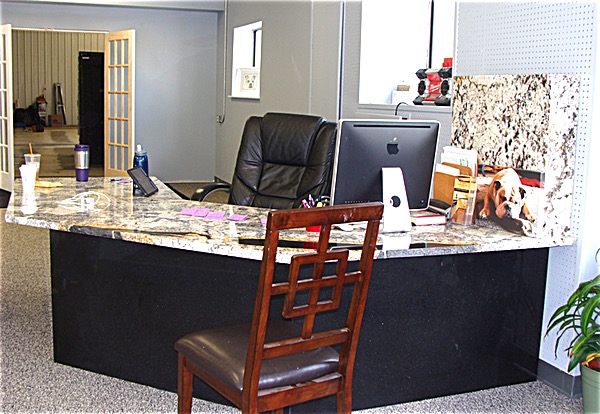 There are about 100 kinds of stone and other surfaces to look at in the Lansing showroom, and his staff continues to truck slabs from the company's Endicott headquarters with the goal of having at least 200 slabs to view. The stone comes from Brazil, India, Madagascar, Argentina, Spain, Italy, and Norway, and the United States. But despite shipping costs, French says that some of the foreign stone costs less than stone from the US. French says most of his stone comes from Brazil, and then India. Some of the stone is obtained through distributors, but French brings in his own stone from Brazil.
French still does work with a few big commercial contractors, but likes to concentrate on residential projects, staying away from most industrial jobs. F & F recently finished a project for McGirk's Irish Pub in Binghamton. The company soapstone surfaces in a historical home in Aurora, and a projects at SUNY Cortland. They installed counter tops in the Baseball Hall of Fame gift shop.
"That was a neat one," he says. "Not so much the actual project, but the fact that when we got done with the project we got to go back stage. As a baseball fan it was really kind of neat to see that."
The Lansing showroom is open from 9 to 6 Monday through Friday and 9 to5 on Saturdays.
v12i31