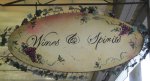 There have been a lot of changes at the Triphammer Mall in Lansing Village since the A&P moved out, and possibly the most noticeable is that
Triphammer Wines and Spirits
moved to the front of the mall to be joined soon after by
Ithaca Coffee Company
.  The two are owned by Julie Crowley.  The liquor store has been in her family for 65 years, and she bought Gormet's Delight about two years ago.  "It's a great location," she says.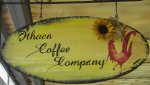 Triphammer Wines and Spirits was started by her grandmother Margaret, and then passed on to her father Robert.  Crowley grew up in the Village of Lansing, attending Lansing schools before beginning an odyssey that brought her full circle from Lansing to Texas to Alaska to Boston to Oregon and back here.  "Coming home was always in the back of my mind as far as the liquor store was concerned," she says.  "Dad didn't have any plans to sell.  He was kind of retired, and it was an opportunity to keep the family business going and make it grow.  We're twice as big now as we were."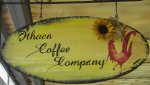 And the growth doesn't stop there.  Next Spring a second Ithaca Coffee Company store will be opening in the Gateway building on State Street in Ithaca.  "We're going to re-brand the store as 'The Market Basket at Ithaca Coffee Company'  to give people more of an idea of all the products we do have," Crowley says.  "The new Gateway II has two retail spaces on the ground floor.  So we're expanding."
But it is important to Crowley to keep the Ithaca Coffee brand even as she expands it to include The Market Basket.  "Ithaca is such a great brand.  Especially when you get outside of Ithaca you realize how much people have a good feel for Ithaca.  It's a positive image, so I don't want to lose the Ithaca Coffee Company brand."
The re-branding keeps the coffee company name, but expands the store's image to make people aware of the variety of products she carries.  Aside from coffee, which is roasted in the store, there are large sections where you will find cheeses, beers, and gourmet foods.  An espresso bar is at the front of the store, and a little beer tasting bar is at the back.  'The chicken coop' is full of baskets that customers take to fill with a variety of products to make gift baskets with their own personalized selections.
| | |
| --- | --- |
| Bags of different coffee beans ready to be roasted | The roaster |
| Customers line up at the espresso bar | A wide selection of beers |
All of the coffee sold and served in the store is roasted in the back room.  Last year the old coffee roaster was replaced with a new ¼ bag (35#) Sivitz roaster.  A large window in the back of the store allows customers to see the coffee being roasted.  Bags and bags of beans are stored in the roasting room to be placed in the roaster, then caught in buckets when they are ready.  They are then divided into coffee bags for sale out front.
On the liquor side, wine racks are arranged at an angle, with local wines in front.  A wine tasting bar is to one side, with a bottle cooler for customers who need their wine cooled right away.  A 'Cashier' sign is a giant dollar with a likeness of Crowley's father where George Washington would be.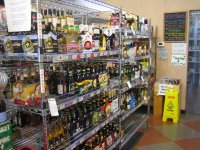 At Triphammer Wines and Spirits (left to right) Dale Flinn,
Mike Stelling, Julie Crowley, Sherry Lazarus, and Karl Karnan
New York State wines are big sellers in the liquor store. "We sell a tremendous amount at the holidays," Crowley says.  "It shocked me how much of the local wines we sell.  I don't know if it's people going to see their family who want to take a local product with them, or they've got company coming in and they want to share our local products.  They've got quite a following.  The problem right now is they don't have enough juice to make enough wine to put on the floor.  We'd sell more if they could give us more."
An important element of Crowley's business strategy is to create events to draw people into her stores.  "We do wine seminars on the first Thursday every month," she says.  "We've had 25 to 60 people.  It's first come, first served.  It starts at 7pm.  They start handing tickets out at 6:30 o you can get your seat ahead of time.  They had to turn people away from that in December."
| | |
| --- | --- |
| Street signs point to wines and liquors | The chicken coop is full of baskets for customers to pick and fill |
She also has regular Friday wine tastings as well as a couple of big ones at the holidays and in April for the store's anniversary.  "I like to see people walk in to the space I created and make that part of their habit," she says.  "We have people come in every Friday for the wine tastings, and they know the other people at the tasting bar.  It's a social event for them."  An e-mail list reminds people of the tastings, new products and special events.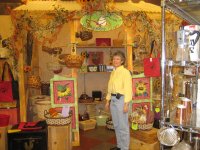 In The Ithaca Coffee Company (left to right) Julie Crowley,
Lisa Kerslake (manager) and Pam Fairbanks (gift basket specialist)
Crowley is enthusiastic about both stores, and excited about the new brand and the new store coming soon.  "It's an interesting store," she says.  "There's not another one like this in Ithaca.  People come in from the city and say, 'I haven't seen something like this since the City.  It's refreshing, it's different.  It's a little bit of everything between the espresso bar, cheese, beer, food.  We're a wonderful store with a wonderful staff.  Friendly, knowledgeable... it's just a fun place to stop and shop."
----
v2i36