Taste of Home Entertainment
consultants, representing a line of quality products for cooking and serving and displaying food.  They find women to host parties which they run themselves, and the people who have attended have been impressed enough to want to host themselves.  "We hosted an open house, invited all of our friends, everyone we knew," Short says.  "They came, we got a couple bookings from that and with one of those, we got four bookings.  We get bookings from each booking."
Taste of Home Entertainment is a new company owned by Reader's Digest that opened nationally last May.  Maloney and Short are currently the only Ithaca consultants and say they are looking for more.  As a new company part of their challenge is letting people know the company exists.  The pair has built their business slowly, depending on word of mouth to build up to about one sales party per week.  Their goal is to double that.  Most of the parties are in the Ithaca area, but they have booked as far as Vestal and Burdett.
They base their pitch on inspiration, preparation, and presentation.  "Inspiration is what we get from Taste of Home Magazine, from the cookbooks that Home Entertaining has," Short explains.  "You want to have a birthday party, you might want some friends over for the night, you have an anniversary party or a brunch.  You need some kind of inspiration and help.  Preparation is where we come in as far as the products go.  The last part of it is the presentation.  There is nothing so boring as a table full of food all on one level.  It's nice how they show you how you can bring your food up and make it more attractive, more presentable, more ways of entertaining."
The women stress that their products are of the highest quality, so much so that they use many of them themselves.  "I would not sell something I don't believe in," Short says.  "I'm not into selling junk, so I have to believe in what I'm selling.  That's the one thing I like about Jackie because she has that same quality.  She would not want you to get this and be unhappy."
This enthusiasm is evident as they leaf through the catalog and talk about the products.  "My favorite happens to be the ice cream scoop," Short says.  "This thing is amazing.  I brag about it all the time.  It has a flat edge, almost like a knife on it, but it's not.  It's kind of curved and that ice cream can be rock hard and you can just dip right in there and take it out.  It's an amazing tool."
The two women have been friends for 15 years.  They are also and co-workers at Tompkins County Solid Waste.  Each was looking for a second job to earn extra cash when Maloney learned about the company while conducting an Internet search.  "I looked at direct sales companies and this came up as one of the fastest growing start-ups," Maloney says.  "I looked at it, loved it, and asked Linnett if she was interested."
Short had done direct sales before, and this time she was looking for something that wouldn't consume all her time.  While many consultants work alone, the friends decided to go in on it together, each bringing complimentary qualities to the mix.  "We work off each other pretty well," Maloney explains.  "She is really, really good with people.  She's great at talking to them and getting to know them and I have to actually work on that more, so it's actually nice to watch her at work.  I'll sit and take the orders and do all that and she's out there trying to get us parties and chatting people up and getting to know them.  That's the part of the job she likes best."
"I think Jackie has a wonderful personality and she likes to please people," Short says.  "I see that when she is out there doing parties, she really wants to make people feel comfortable.  She wants to make sure they are buying what they really want."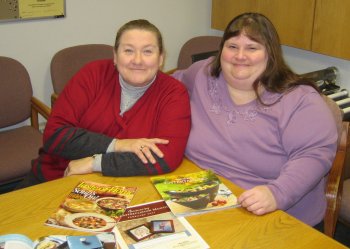 Linnett Short (left) and Jackie Maloney
They both say that the quality of the products means that customers will come back to them for more, something they want to build on.  "I heard somebody say was 'Boy, this reminds me of my grandmother's pieces, my antiques, but the nicer thing about this is that I can put it in my microwave and I can put it in the dishwasher.  I can't with my grandmother's antiques.'" Short says.  "The company uses a lot of cast iron.  They have a lasagna pan, and it's pretty hefty.  It's all cast iron.  They have a paninni pan which is pretty cool that you can make different types of sandwiches like breakfast sandwiches with just bread and maybe eggs, and a sausage, and cheese, and you put it on this grill and you have a paninni breakfast."
But as much as they like their products, both women say their favorite part about the business is the people they meet.  "I love people, I love kids," Short says.  "Every party has had kids, and if they are old enough we put them to work.  It's fun, they have a ball."  Maloney adds having kids at the parties helps sales.  "We have these magnetic teaspoons and they all stick together," she says.  "We got several orders for them because the kids were playing with them."
One of the side effects is that the women get ideas for their own parties.  "I have been collecting recipes," Short says.  "I say would you mind writing that recipe down and they will do it.  So I pick up some great recipes.  I had some artichoke and spinach hot dip at the last party and it was wonderful."
The pair genuinely enjoy being a source of products they believe in and bringing them to people.  They have even made suggestions to the company for new products.  "I can't wait to do summer parties," Short says.  "I think they will be fun.  Jackie and I have talked to the company and we hope they will expand to more barbecue implements and products.  We are hoping they take our suggestions and do that to."
In the future they say they may expand into party planning.  "We are going to look into that and how to have a party to show other people how to dress a table," Maloney says.  "But we don't feel like we are quite there yet."  In the meantime they are having a great time meeting people while supplementing their incomes.  "It's very interesting," Short says.  "We're learning a lot and having fun doing it, actually helping people to entertain and have more fun entertain.  I love to entertain."
----
v3i6
Jackie Maloney and Linnett Short want to come to your home to get you excited about entertaining.  The pair are