There are pictures and there are Pictures.  Lansing photographer Danielle Cook Gerritsen takes Pictures.  Blending art, action, emotion, composition, and storytelling, Gerritsen 's pictures always tell a story about the people they portray.  This brings them to life in a way that most pictures can't approach.  "I l like looking at a photo and being able to see a story, a picture in your mind," she says.  "That's really helped me to be able to capture relationships and emotion in other people."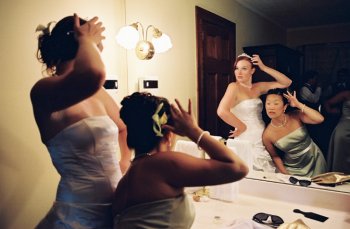 Gerritsen specializes in weddings and events, commercial and portrait photography.  Based in Lansing, she has worked as far afield as New York, East Aurora, Saratoga Springs, and Scranton.  While she does a lot of wedding photography, she also works with businesses.  Locally she works with such businesses as Sincredible Pasteries, the John Joseph Inn and Elizabeth Restaurant, the Blossom Beauty Spa, and Michaleen's Florist, and has photographed many fashion shows.
Born in Lansing, Gerritsen has always been interested in photography.  Her Great Grandfather, a minister and musician, was also a photographer.  When she was young he would take her to galleries in New York City.  At Lansing High School she took photography classes with art teacher Patty Brown.  She earned a BFA at Syracuse University in the School of Art and Design in Art Photography.  That's where she met her husband Adam, a biochemist at Bristol Myers.
She doesn't have a storefront studio.  Instead she brings her studio to her clients.  Everything is portable including a variety of backdrops, lighting, and equipment.  When she photographs families in their own home she says children are more comfortable.
Gerritsen says that technical skill is just as important as artistic ability.  When photographing an event she brings four cameras and a variety of lenses, with color and black and white film, and including a digital camera.  "A lot of people can take photographs, but to know what you're doing... to be able to problem solve...," she says.  "If you have an equipment failure you need to be able to fix it immediately, because at a wedding there are no do-overs.  Because I was trained in film I have the mentality that you have the one chance to get it right.  You're not going to look at your digital camera and then just take five more.  Even though I shoot digital now as well, I still work that way."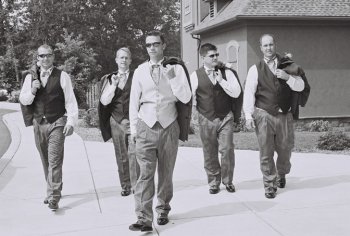 She prefers film to digital pictures because of the depth and quality of the images.  But she is also skilled in digital manipulation.  "I do some of it here and there, more when creating collages," she says.  "When I take a photo I am very concerned with exposure and focus so that the picture is as perfect as it can possibly be to begin with.  Then if I want to alter it in an artistic way I can, but it is very, very rarely for technical reasons.  But it is amazing -- you can add text, you can layer images, you can make collages.  Taking a photo and making it into an invitation, or a thank you card, or adding graphics.  But the actual image I start with stays pretty much the same."
At the same time Gerritsen is a photo junkie, savoring stacks of family photos.  "I can't throw away pictures," she says.  "I have a really hard time with that.  If it's printed I still have it.  I still manipulate old photos of my family and reprint them.  To me it's a very intimate thing."
Gerritsen began working professionally at a young age.  Her first wedding was her high school science teacher, Diane Stone's.  "I did it and she loved the photos," Gerritsen  says.  "From there I started doing more and people would ask me if I would be interested in doing it."
The business snowballed from there.  While she was in college people asked her to photograph their weddings after seeing her work.  And those people began telling their friends.  "They knew I was a photographer, and would say, 'Would you photograph my wedding?',"  she recalls.  "At first I said, 'I will, but I don't have a lot of experience.'  They said,' Oh don't worry about it.  We've seen your work.'  That was wonderful, because they gave me a great opportunity to develop a good portfolio."
Looking toward the future she says she can envision opening a studio if the need arises.  But she says she would still keep the flexibility to bring her studio to clients' homes and businesses.   She hires assistants to help carry equipment, and may eventually hire an accountant.  But she doesn't envision hiring other photographers.  "When someone hires you to do a wedding they think they're hiring you," she says.  "And they should be.  They should be hiring your style and your personality.  If you send someone else, even if they are just as good, it's not what they had in mind."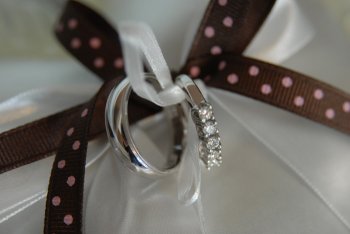 Meanwhile the business seems to be growing on its own.  It's been amazing how much it's grown each year," she says.  "I haven't had to do that much to make it grow.  People recommending me have been wonderful.  They are so great about spreading the word, and I have a lot of repeat customers who come back every year for their portrait or businesses that call me again and again.  Now I'm finding that a lot of brides that I've photographed are recommending me to their friends.  And now they're having children and I'm photographing their newborns.  So it really is growing and I hope that that will continue."
Gerritsen recently redesigned her Web site and says the response has been noticeable.  She plans to continue updating it, and she says it is becoming more important because she has more out of town clients.  "They might not be able to come and meet with me," she says.  "They can see a variety of my work on-line to decide whether to hire me.  Most people tend to use it as a reference.  I think more and more people are finding me on-line, coming across the Web site and calling me to photograph a wedding."
Gerritsen says she especially enjoys photographing weddings.  She strives to be as accommodating as possible, doing her part to make a wedding day as stress-free as possible.  She has helped brides dress, or drives relatives to the reception.
"I feel very privileged to be a part of someone's wedding," she says.  They're putting a lot of trust in me.  When I can be there all day with a bride -- it's all day.  I'm probably the only person that's with them from beginning to end.  If I can help them in some way, or when I give them that album I feel very honored, because it's such a big deal.  It's something they are going to have forever."
----
v4i4