That is what Nick Pidlypchack is bringing back.  "They hear the tunes and it brings back memories," he says.  "Or some people have never seen an ice cream truck before.  They may not buy anything that time, but they ask when we're coming back.  We give them a time and maybe the next time they'll buy.  Once they get more familiarized with the business it will start catching on."
After moving to Freeville with his girlfriend and her family last year, the couple wanted to build a gift shop and ice cream store on their Route 13 property.  But, like many people trying to launch a startup company they were not able to get financing.  Pidlypchack decided to start smaller with an ice cream truck, and use the earnings to invest in building the store.
"We looked on the Internet and found 30 ice cream trucks in Connecticut," he recalls.  "We went to look at them, but there was nothing that we really wanted because they needed too much work.  Then we found an ice cream truck in Massachusetts.  I took all my savings except for $300, and invested in an ice cream truck."
The truck dates back to 1976, the year Pidlypchack graduated from high school.  It was originally built to sell hard ice cream, and has the original water lines that were used for that built in.  The truck includes a cold plate freezer that stays cold all day long when you leave it plugged in overnight.  The couple located the truck over the Internet, made a bid, and arranged to have it hauled to Freeville.  Six weeks later they had their truck.  Rather than sell hard or soft ice cream he is vending novelty ice cream like ice cream sandwiches and Klondike Bars.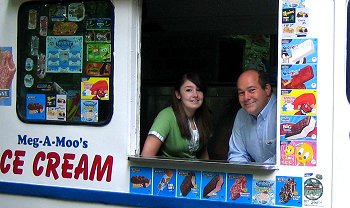 Megan Green (left) and Nick Pidlypchack
"One of the reasons we bought that truck is that there is a tweety bird on the side of the truck," Pidlypchack says.  "My girlfriend likes Tweeties.  Once she saw that truck she put a bid in for it.  I was at work.  It had several other details on it that we took off and made our own."
Pidlypchack has hired his girlfriend and her two children Megan, and Ryan to work on the truck, and Megan was given the task of naming it.  She came up with 'Meg-a-Moo's' and that was painted on the side panels.  Pidlypchack got his permits and on June 26th they were ready to roll.
Aside from visiting regular routes in Dryden, he has already brought the truck to special places and events.  These include block parties, business picnics, the Route 90 Garage Sale, Groton's Old Home Days.  He delivers to vacation Bible schools.  The truck will be at Tomato Fest on Owasco Lake in Cayuga County in September, as well as a booth for gift sales.  
He is also working with the town of Dryden to bring the truck to sporting and other events there, giving back a portion of the proceeds to the Recreation Department.  Meg-a-Moo's shows up at baseball games, Music in the Park concerts, skateboarding, and football.
Pidlypchack's plan is to get a 24x24 building erected for his store this year.  He plans a window to buy ice cream, with the gift shop inside.  Eventually he hopes to add a deck where customers can sit and enjoy their ice cream, and has applied for a grant to create a small nature trail to provide a safe, fun place for kids while they eat theirs.  With 10,000 cars per day passing his property, he thinks he has a good location for selling gifts and ice cream.  And he wants to expand his fleet to two trucks, possibly covering the City of Ithaca and Lansing.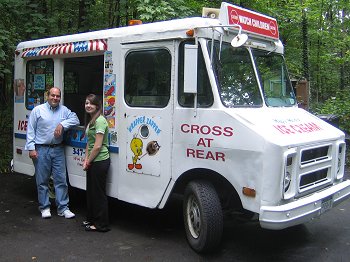 "My goal is to keep the ice cream truck going, get the business going year 'round so I have a store with a gift shop and ice cream all year 'round.  We'll have ice cream cakes, flying saucers, hard ice cream, and soft ice cream.  If people want ice cream in the winter time they'll know where to get it."
Pidlypchack spent 20 years in accounting before switching to corrections, a career his brothers had followed.  Hw worked as a corrections officer at the Cayuga County Jail until moving here last year.  He got a job working at the Tompkins County Jail.  But he wanted to devote his time to his new business, and resigned on July 30th.
"I really believe that if you believe in yourself and have the right attitude you'll be successful no matter what," he says.  "I tell the kids that success is achieved by those who try and keep trying with a positive attitude -- I keep that in the back of my mind no matter what."
Pidlypchack loves bringing back that old neighborhood feeling with his ice cream truck, watching kids run out to the truck while parents watch from the front door.  He has a range of prices so that every kid can afford to buy something.  And when they can't the neighbors are watching out for them.
"The other day we stoped on one road in Dryden, and a lady bought ice cream for herself and for handicapped kids who live up the street," he says.  "A lady yesterday bought an item for $1.85 and gave us a five dollar bill.  She told us to keep the change for someone that needs it.  So People are aware of the people down the street from them, across the street.  They like their neighbors and want to share with them.  It's a very nice feeling going into a neighborhood area and seeing people helping each other out."
His enthusiasm for the truck, his customers and his products is infectious.  "It's just a good neighborhood feeling," he says.  "Every time you go into a neighborhood and ring the bells it's a good feeling.  Kids have smiles on their faces.  You're making people happy, and you're having fun at it.  When I was growing up you would help the next door neighbor mow their lawn.  It was all about helping, sharing.  I want to bring that back to people with my ice cream truck."
----
v4i32
If you are of a certain age you may remember the trucks that came by your neighborhood offering services.  The milk truck delivered milk.  When you heard a certain bell ring on another truck you knew you could bring your kitchen knives out to be sharpened.  But everyone's favorite sound was the music of the ice cream truck.