Last year Frank and Melanie Towner tried an energy and vitamin supplement drink called Vemma (vee-ma).  The product is a replacement for handfuls of vitamin and supplement pills, based around a rare Southeast Asian fruit called mangosteen.  They liked it.  In January they started selling it.
"With our fast-paced lifestyle we realized that pizza and pasta weren't giving our family the nutrition that we needed," Melanie says.  "It tastes good and we liked the business aspect of it, the whole binary multi-level marketing approach.  This has got all the vitamins, all the minerals.  It's got antioxidants.  It's something that's good for us.  We tried the product and liked it and decided to take it to the next step to introduce it to other people."
The couple were introduced to the drink thorough a friend, and started noticing differences in their health.  Frank had been battling high cholesterol, and found that Vemma actually reduced it to acceptable levels.  Melanie noticed changes, too.
"I was a kind of Negative Nancy in the beginning," she says.  "I looked at this as one more thing to do until we started feeling the difference from it.  Everybody has testimonials but when I taking it regularly my knees stopped hurting.  There is a natural anti-inflammatory in this, so you're kind of getting it without taking an Advil."
Frank says that they were looking for a business that they can grow into the future and their retirement years.  He says they looked for something they could weave into their lifestyle, rather than adjusting their lifestyle to a new business.  He is the Executive Director/Volunteer Coordinator at the Ithaca YMCA, as well as Crossroads the Clown, and a volunteer fireman.  Melanie works at BOCES coordinating the employee assistance program for the Ithaca, Dryden, and Groton School Districts, as well as selling felted hats and other items she creates.  The couple also represents ACN Phone Services and has three children, so they have a considerable lifestyle to fit Vemma into.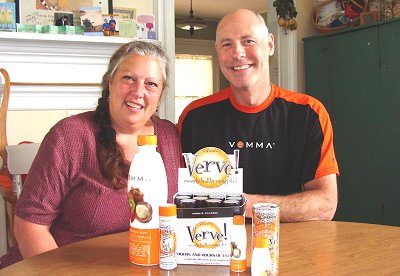 Melanie and Frank Towner
"We like to have multiple streams of income," Frank says.  "If we're not doing something to create money, save money, or some sort of passion -- or if we can combine the two of them that's even better -- then we've got to rethink what we're doing.  We want to create some income to make sure our kids have got some things, and we enjoy doing it.  We enjoy meeting people and it's a challenge."
The couple plans to ease into selling Vemma, starting slowly and building out.  "It's spheres of influence," Frank says.  "The first circle is somebody you know.  It could be anybody.  The pitch is that this is all it is.  We can talk more about it.  If you don't like the taste of it or it doesn't work for you, great.  Share it with somebody else.  Second are people who might have something to do with a product.  If somebody at Cornell is into supplements or health related issues I can go to them and talk about a product.  That third circle is Harbor Festival, Relay For Life, Cayuga Lake Triathlon, and other places where we are considering being in the public view so we see them as they're coming by."
The Lansing Harbor Festival booth will serve two purposes -- first to introduce themselves and the product, and also to raise funds for the Lansing Boys Varsity Swim Team.
Frank says that their other five jobs keep the family apart, working at the Y or BOCES, or clowning or felting.  He says his favorite part of the business is that it brings his family together.
"This provides us an opportunity to do something together," he says.  "That includes the whole family.  The kids like it and we see it as a potential business for them."
"I like to see people try it and see it affect them positively," Melanie adds.  If it's their health, their energy levels, taking charge of their health is good.  It also has to do with prevention.  It's nice to hear people say, 'This stuff is great it makes me feel so much better.'  I like to help people feel better."
Vemma comes in small or large bottles.  An energy burst version called Verve comes in cans, and a version aimed at children is also in the works.  The Towners stock a small amount to hand out as samples as well as their own personal stock.
Frank notes that he and Melanie both come from families that had their own businesses, and they have a strong work ethic.  Most of their sales are via their
Web site
, and the product is shipped directly to their customers, reducing the need for overhead.  The pair is looking for business partners who also want to sell the product in addition to traditional customers.  Frank says he likes selling a product that he uses himself and that he knows will help people.
"It's important in any business like this," he says.  "It's not so much what we're doing as helping others achieve what they want to do.  That's the golden rule business -- if you can help other people achieve what they want then you'll be successful."
----
v5i27