Decorum, too
is like coming home.  An elegant, yet accessible home filled with genuine Turkish rugs, beautiful and sturdy furniture, and local art.  After a hiatis of several years, Alan Nemcek has reopened a store that has been a long-time landmark on the Ithaca landscape.
"I always felt this is like a museum," he says.  "People could come in any time, not be hassled to buy, and enjoy the beautiful ethnic art that's here.  People came in and eventually we became friends.  Eventually most of them bought from me, too.  That wasn't the intention and I think they know that.  And that's exactly what I do right now."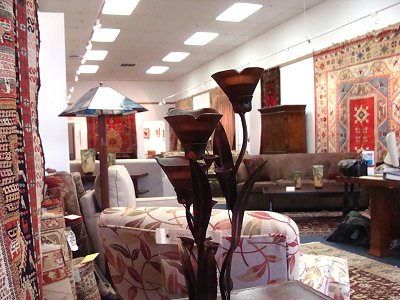 For now Nemcek is manning the store himself.  That way when you come in to look the expert is right there, and he can not only tell you about the kinds of rugs and furniture, but about the individual pieces as well.  He delivers and picks up, or lets customers take pieces home to try.  At any point after buying they can bring it back to trade for any other piece in the store.
"Word of mouth is the absolute best advertising there is," he says.  "Even those people who just appreciate the store, but don't buy anything, their whole life... some day somebody they know is going to ask where to buy an oriental rug or a good quality sofa, and they'll say 'I've got the perfect place for you to go.'"
Nemcek is a native of Binghamton.  He studied music at the Crane School of Music at SUNY Potsdam, earning a degree in K-12 instrumental and vocal music.  He began teaching right out of school in Whitehall, NY, at the southern end of Lake Champlain.  He taught for 13 years.  While teaching in Newark, NY a Turkish friend invited him to visit forthe summer, and while in Turkey Nemcek met rug sellers.  The next summer he went back, and he was hooked.
"I absolutely fell in love with the rugs," he recalls.  "I was just floored.  I didn't know that Turkish rugs were that wonderful until I went there.  That summer I became enamored of the rugs.  The next summer I went back and my friend who is in the business said, 'you should do this in America.'"
At the time he was getting a Masters in Education, planning to become a school administrator.  But after earning the degree and certification he decided what he really wanted to do was open a rug store.  He opened Oriental Treasures in 1986 in the Dewitt Mall.
Building trust and friendship with his customers has been a tradition since his first day in business.  The DeWitt Mall store was a small space, less than half the square footage of the current store.  His stock was almost entirely rugs he had bought himself in Turkey.  Eventually he moved to Clinton Hall, and then to a storefront on the Ithaca Commons.  He had bought a building, thnking he'd have to wait to move in until the tenant's lease expired.  But when the tenant went out of business eight months early Nemcek found himself with two storefronts.
He decided to try selling furniture in the second one.  With few choices in Ithaca, he thought a quality furniture store would be welcomed by the community.  He called it 'Chair and a Half' after a love seat in the line he was selling.  When his lease was up he moved the rug store down a few doors, and Oriental Treasures/ Chair and a Half merged.  After a flood damaged the basement and the stock that was on display there, he reopened the store under its new name, Decorum.
Nemcek closed Decorum in 2005 because he thought he wanted to retire.  He closed the business and sold the building.  He earned his real estate license, thinking he would enjoy selling homes as a part-time job.  But when he saw a job was available at Maguire's Automotive Group, close to his house, he took it because he is a self-described 'car freak.'  He became head of the business development center, then in customer relations, where he phoned customers to be sure they were satisfied with their car repairs.
A lot of people, including former rug store customers, recognized him and told him how much they missed his store.  Recently one asked whether he had ever thought about reopening the store, and he said he was thinking about it.  It was Sonia Thayler, who owns the Triphammer Mall with her husband Dick.
"Dick brought me here and showed me the space," he says.  "I knew it was a perfect space.  He was extremely helpful in redoing the space.  They have been extremely supportive, talking to friends and sending people here.  They are great people and I am really pleased to be in this spot."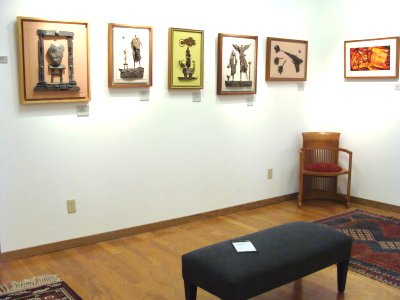 The new store features the Turkish rugs Nemcek has become known for.  He also has some unique Persian rugs as well as some from Afghanistan.  All have been hand-picked by Nemcek in his travels to Istanbul.  Art comes from local Ithaca artists.  Nemcek plans to swap the art in his gallery every two months, with two artists displayed at a time.  The furniture comes from three sources.  Pieces from the Peru-based South Cone look like beautifully crafted wooden antiques.  Nemcek got the pieces at a very favorable price, and passes the savings to his customers.  The Vermont-based Copeland Furniture Company provides replicas of furniture designed by Frank Lloyd Wright for the homes he designed.
The upholstered furniture in the store comes from Halligan Manufacturing.  Halligan is a fifth-generation family-owned business in Newark, New York, that is run by Steve and Walt Halligan.  When Nemcek lived in Newark he rented a room from Steve, and they became close friends.  Nemcek recalls going to the factory as Steve checked in on it evenings.
"I'd see this wonderful furniture that they were making," he says today.  "Indeed it is the top quality that's out there today.  It has incredibly sturdy, solid frameworks.  It has eight-way, hand-tied spring systems on the cushions, so they'll never go out of place.  They're always where they're supposed to be.  They use top quality foam in their pillows, so you'll never have one of those sofas that you can get into but can't get out of."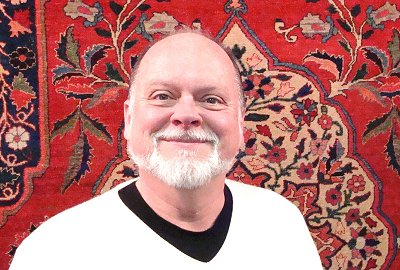 From the time he started his first store Nemcek has based both his buying and selling on relationships.  He personally buys the stock he sells, picking out each piece and buying from people he knows, both in Turkey and the United States.  This makes him his own greatest asset.  Getting to know his clients and become friends with many of them has the benefit that he knows what people want when he goes to Turkey on a buying trip, and can often find it for them.
"This has never been a business about selling to people," he says.  "I don't sell rugs and furniture -- I teach people what it is, and then they fall in love with it, or they don't.  I'm very proud of the fact that I've never tried to pressure anybody.  I've never tried to force or coerce them in any way.  I just present them with the best product I can possibly find, educate them as to what it is, let them try it in their home."
----
v5i49
For a lot of people walking into