The weather has been unusually sunny for Ithaca, and as school lets out people are thinking about tourism, relaxing, and activities around the lake.
School's Out Charters
is offering a unique way to mix some of the region's most striking features -- Cayuga Lake itself, local wineries and bistros, and sightseeing at local parks and other destinations. Captain Rick Eleck offers customized tours for people who want wine tastings, restaurants, or just a lazy day of boating and swimming on the lake.
"The wonderful thing about the wine tour is that we take a very exclusive number of people out," Eleck says. "The biggest group we'll take is six people, so you have a very intimate environment. You're not on a big bus, and on top of that you're on the lake. You get a nice, relaxing cruise up to the wineries. The folks that are going on the cruise are welcome to bring their own beverages."
Eleck is a U.S. Coast Guard Master Captain, operating a 22 foot Chaparral Bow Rider. He taps four friends who are experienced on the lake as first mates, including his wife. All are knowledgeable about the lake and surrounding areas of interest. He stops at Sheldrake, Thirsty Owl, Goose Watch, Lakeshore, Bet The Farm, and Long Point wineries, at restaurants such as the Boat yard, and state and local parks along the lake.
Originally from Cleveland, Eleck is the Cortland high School band director and music department curriculum leader. He plays drums regularly with local musicians including Bob Keefe, and percussion with the Orchestra of the Finger Lakes. He says he never thought about boating until he moved here and saw the beauty of Lake Cayuga.
"I moved to Lansing in 1984," he says. "I spent four years wishing I could be on that lake, and finally I was able to afford my first boat."
But boating was just for his family until a colleague from Cortland High School convinced Eleck to take the Coast Guard Captain's course. The two had talked about operating dive boats when they retire from teaching. While taking the course it occurred to Eleck that he could use it to create a business now that would generate summer income. After getting his Captain certification he started the business last June.
Eleck started by doing pleasure boat cruises on the lake. Some people wanted to go out and swim. Others wanted to go to The Boatyard to have a nice meal. The business really took off in July, especially after he researched wineries that are accessible from the lake and started offering that as an option. Adding wineries gave his cruises an element that is both unique as a service on Cayuga Lake, and takes advantage of the unique character of the region. Last year he ran 12 cruises, and this season has already taken out six.
Eleck works with about a half dozen wineries that are accessible from the lake, and has brochures there. He notes that Thirsty Owl Wine Company's Ted Cupp plans to promote winery visits by boat that will involve three local wineries, and Eleck says he wants to be a part of that. At this point he is the only commercial operator on Cayuga Lake providing that service.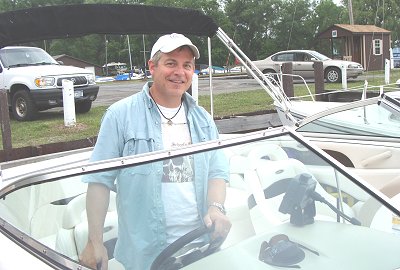 Rick Eleck
Eleck's family owned a retail music store in Ohio where he learned how to run a business and how to take care of customers. He translates that experience to his customers on the lake. He says his favorite part of offering the tours is meeting new people and bringing them an enjoyable experience. He says about half his customers come from around the general area, while others have come from as far as Wisconsin, Delaware, Pennsylvania, and Boston.
"I feel I am very in tune with what it takes to run a successful business and how to make sure the customer is treated with care and respect," he says. "Customer should feel like they are getting a good value. I enjoy every minute I spend on the boat. Every one of our customers have been wonderful. We like to engage them. They're enjoying themselves on the lake so they're usually in pretty good moods and they're having a good time."
----
v6i23