Ed Marion is standing in front of a painting he is working on in the light-filled cavernous white box of an art studio. He's not alone. On the stereo's speakers, Louis Prima is leading a full orchestra and Marion is teaching his art students to paint pineapples.
Yes, pineapples. Students are comparing their work to his and each other and people with no prior art experience can't believe they are making the painting before their eyes. Is this a dream? A short fiction story?  A deleted scene from the film "Big Night?"
No, It's real. Ithaca painter Marion has just opened the
Ithaca Art Factory
. Part teaching classroom, part working art studio, and part art gallery, the Ithaca Art Factory is something to see, and something to participate in and enjoy.
"I've wanted to bring this art-making concept to Ithaca for some time, and happily, that time is now," says Marion, a local painter who has shown his work in Ithaca for the last 6 years.
The Ithaca Art Factory is many things. But first, and foremost, it will be the place in Ithaca where people come to make art with their friends and community in a party atmosphere, fueled by great music, and fueled also by the passion and encouragement of Marion, who sees the Factory's mission to get people in Ithaca making their own paintings.
"If we had a tagline, it would be 'art gets made here,'" he says.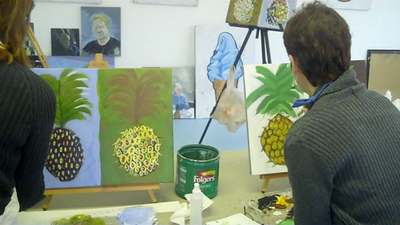 The premise of the Factory is simple. People go to the Web site and click on the 'class calendar' to select any painting that they would like to paint. Then they just show up for class. Ithaca Art Factory supplies the canvas, acrylic paints, brushes, easels, aprons, art instruction and musical inspiration for each painter to make and finish their own painting in 2 hours to bring home with them.
"It's basically like walking into your own art studio and painting with your friends for 2 hours," Marion says.  "It's a great way to unwind on a Friday or Saturday night or to start the week with a Sunday afternoon class to unleash the creativity within you."
It also helps that he teaches all of the classes. Part artist, part stand-up comedian, and part DJ, Marion's aim is make sure that each patron not only has a great experience, but that they also learn something about painting that fuels their passion to make art.
"I want the Factory to be a place where people basically feel like they are walking into their own art studio, playing their albums on the stereo, and making their very own masterpieces, Marion says.  "These are great sessions for folks wanting to work on their own paintings and I'm always around to help."
Marion was the catalyst for the founding of the Ithaca Festival Paint Off when he was on their Board of Directors.
"I'm making the Factory into my initial vision of the Paint Off, a place where painters, and especially non-painters, can come to express their creativity, except at the Factory, you can do it with some loud rocking music and you can do it night after night after night," he says.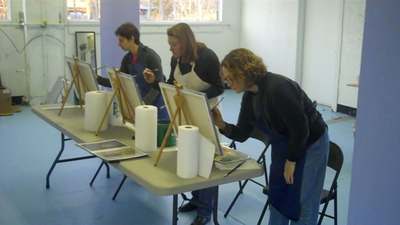 To that end, the Factory books private painting events on any night or day a class is not in session.  He is focusing private sessions on birthday parties, private parties, corporate parties, and other events.  Marion is also opening his doors to Ithaca's non-profits to host their fundrasing events at the Factory.
One of the things that excites Marion so much is that each week and month will feature new classes at the Factory. In February, he is offering discounts to all guests during
Ithaca Loves Teachers Week
.
Marion's also chomping at the bit for some good Spring weather so he throw open the 2 huge garage doors to the painting classroom.
"People will not only be able to paint in the studio classroom but we'll paint al fresco; something akin to having a great dinner at your favorite restaurant while sitting next to some great French doors that have just been opened to bring the outside into your space."
He adds, "If I knew how to play guitar, I'd throw rock concerts here. But in the meantime, I'll just paint some rock stars and invite everyone to come paint them with me."
v8i2