June 23, 2006 (ITHACA, NY)- There's a stranger hopping onto the Hangar stage . . . and he has a bushy tail! The Hangar Theatre's KIDDSTUFF season continues with Bunnicula, the contemporary classic children's book by Deborah and James Howe, from June 29th to July 1st, with shows at 10 am and Noon each day. Who is this strange rabbit in the house? Why are all the vegetables in the house losing their juice? And are those fangs instead of teeth? Chester the Cat and Howard the Dog liked their family the way it was before the arrival of this funny bunny! After a spooky midnight investigation—and a lot of garlic—these furry friends learn that a new family member might actually be fun! Adapted for the stage by Jon Klein and featuring original music by Chris Jeffries, Bunnicula is made possible at the Hangar Theatre with the support of Alphabet Soup.
The Monroe Family (including Chester the Cat and Howard the Dog) welcome a fuzzy stranger into the house in Bunnicula.
Bunnicula is another "4+" show in the KIDDSTUFF season. All KIDDSTUFF performances provide a matchless mix of entertainment, education, and live theatre thrills for the whole family. Although every child is different, this year the Hangar is helping parents by adding a KIDDSTUFF age stamp to each performance. Five of the productions feature exhilarating characters and exciting plots geared towards children ages 7 and older. These are the shows marked with the "7+" age stamp. The remaining six performances are ideal for the whole family, including those children ages 4 and older. These are the shows marked with the "4+" age stamp. Families should keep these AGE STAMPS in mind when deciding which shows to attend in the KIDDSTUFF series.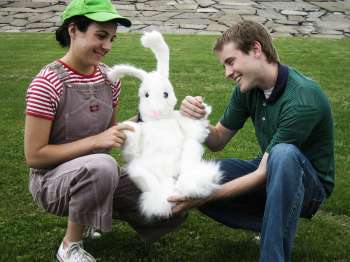 Toby (Melissa Jalali, left) and Pete (Wesley Atkinson, right)
----
v2i25