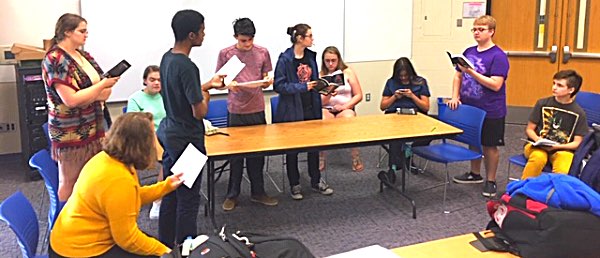 Guilty or innocent? You be the judge as the story behind this question and more is performed on the Lansing Middle School stage. '12 Angry Jurors', produced by the Lansing High School Drama Club, is based on the award-winning play and movie '12 Angry Men'. The play depicts the life or death struggle of 12 strangers who must decide on the guilt or innocence of a man. With these 12 jurors come 12 different personalities, opinions, and backgrounds -- all of which come into play as they try to decide the fate of a man.
Auditions for '12 Angry Jurors' began the first full week of school, and students at LHS have been working diligently ever since. The cast of '12 Angry Jurors' consists of 13 onstage actors and four crew members. In addition to this, LHS faculty member Chris Finn is lending his voice as the off stage judge. The play showcases the strength of the cast by portraying a character study of each juror, exploring the character background and reasoning behind their decisions in the trial. As a result, the cast has spent a large amount of time preparing for these complex roles.
Audience members will find that '12 Angry Jurors' is a unique show in that all 12 of the jurors spend the entire show on stage. This presented Director Kim Gryko and crew members with the opportunity for some unique brainstorming, as they worked to devise ways they could get themselves and show props on stage during the production. Having the cast on stage for the entire show also means that all of the actors have to be in character for the entire duration of the play, as task of which the cast mastered with great expertise.
"I could not be more proud of the actors in this show," said Gryko. "They have worked tremendously hard on this production. The nature of the show required them to be at all practices. They have balanced school work, other school activities, and lessons to really come together as a cast. They are such a fun group!"
The show runs Nov. 15 at 7 p.m. and Nov. 16 and 17 at 7:30 p.m. in the Lansing Middle School Auditorium.
v14i43