02/17/2006 -- Last Friday local film luminaries traversed the red carpet for the premiere of their new movies. Eleven seventh and eighth grade filmmakers actually walked over a little strip of red carpet as they and their families entered the Young Filmmakers Screening at Lansing Middle School.
Lansing Youth Services's Micaela Cook runs the Young Filmmakers program. "They came up with a script together for a live action movie that they shot together," she says. "They edited it individually on the computers in the High School." The students used a digital video camera to film about 30 minutes of scenes they all acted in. After capturing the scenes on a computer, each edited his or her own film differently, putting together scenes in unique ways."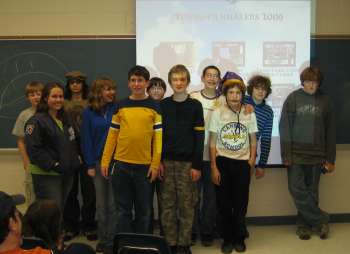 Each student had a different take on what order scenes should be put into, and which should be used. Part of the exercise was learning not to try to fit everything in. "Basically I wanted to get rid of all the stuff that didn't make sense," explains Jill Christian. "For me the pickle scene didn't really fit in, so I had to take that out even though it is kind of funny."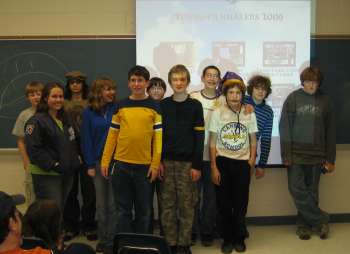 Each student got DVDs with all the videos.
Scenes included llamas spitting into a bucket, people being imprisoned in the 'hole of cuteness,' a kid with a bucket on his head spouting Pig Latin, an escaping homework paper, and a dancing pickle. In one scene an evil spy with his henchmen, pets a bunny in a valentine to the cat-stroking villain Blofeld of James Bond fame, recruiting a spy to steal science homework.
"There was a vague plot outline so I tried to follow that," says Chritian. "I did put some bloopers at the end." A number of the students experimented with subtitles and effects, with interesting results. "At first I wanted it to be really goofy," Martin Keefe says. "Also I wanted to have fun, to fool around with the effects."
The Films:



Movie by Everett Brown
The Weirdest Movie Ever by Noah Holohan-Kantor
Camel, Camel, Camel by Ben Veaner
I Don't Know by Dan Deis
Homework Horror by Armand Zerilli
Duct Tape by Martin Keefe
Mixed Ideas by Robin Presthus
Homework Hassel by Jill Christian
The Rescue of the Golden Spit Bucket by Michael Coles
Cheese Puff Doodle by Howie Peters
Lost in the Woods by Ariel Doan

Seeing many of the same scenes eleven times in a row could be a bit grueling. But the audience loved it, picking up on catch phrases and enjoying the scenes in their different contexts. "They're all very creative and interesting, and they're developing their own style," Cook says. "They're really smart and funny. They're doing really well."
Now that the live-action films are done, Cook is guiding the young filmmakers into stop-action movies. "They're like claymation movies, but not necessarily clay," she explains. "You shoot individual photographs of each frame and you put them all together to make a movie. There will be another screening later in the Spring."
Llama Land
These promise to be creative as well. "Noah Cantor and I did a whole bunch of nails coming out of a bag, then retreating back into it," enthuses seventh grader Everett Brown. "They're being chased by a big roll of duct tape." Christian is working with Robin Presthus on a clay-mation video. "I am working on the main character's sidekick, his pet rock," she says. "I drew a face on it, so he may be able to talk." Another film by Ben Veaner and Michael Coles will feature an orange as hero with the evil villain, a grape tomato.
The filmmakers are enthusiastic about their work, and are thinking of future projects. Seventh grader Noah Holohan-Kantor says, "I've already made a trailer for a little movie that I'm going to put out soon. I'm probably going to put it on a DVD if my parents will let me."
Micaela Cook (standing center, wearing green)
Many of the students are back for a second year, while others are new to the program. "I played around with a camcorder throughout the summer, not making a movie, just video-taping," says eight grader Keefe. "Then I found out about the club and I decided to join it. It was a lot of fun."
After the screening each student got DVDs with all the videos on them. It was certainly clear that the eleven budding filmmakers are learning a lot and enjoying the program. Holohan-Kantor was quick to say, "I had lots of fun, I mean everybody did."
----
v2i8