By

Dan Veaner

News

Print

Beloved Lansing Athletic Director and Coach Adam Heck, 42, died in Albany Saturday, August 27th. He was in Albany preparing the Bobcats Boy's Varsity Soccer Team for a pre-season tournament at Maple Hill High School when he unexpectedly passed away. Heck was beginning his 21st season as a Lansing coach, and was the school district's Athletic Director and Dean of Students.
"Adam Heck was just an all around good guy," says Lansing School Superintendent Chris Pettograsso. "He was the kind of guy who always looked for the positive. He was thoughtful and loving. At the same time, he had high expectations and expected students to take pride in who they were and what they put out in the world."
Shocked at the news of his unexpected death, the community rallied quickly to honor Heck while dealing with unbelieving grief. Pettograsso organized a gathering at Myers Park Sunday for students, faculty and staff that was well attended, including by varsity soccer team members Heck had coached. Counselors were available to provide support. Pettograsso says it was a simple informal gathering at which the school community could begin to process what had happened.
"There were no speeches or planned activities," she says. "It really was just about supporting each other and being in a safe place after receiving very shocking and sad news. I received very positive feedback from families. There was no pressure to come or not to come. We just wanted a common space available for people if they needed it."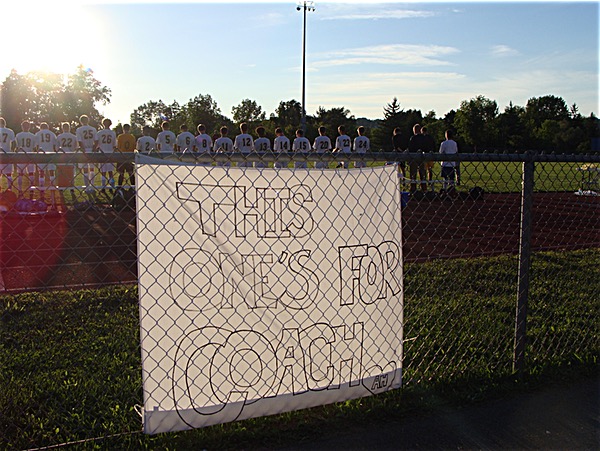 The community at large was also was quick to rally. Two fundraising efforts were immediately launched to benefit Heck's wife Beth, and daughters Alexis, 8, and Madisyn, 6. A group of Heck's college friends organized
a Gofundme campaign (click here to donate)
designed to raise $100,000, that had already reached close to $20,000 in its first two days. The
Lansing Sports Boosters
initiated their own campaign to accept donations at the concessions stand throughout the Fall soccer season. Additionally, recent Lansing graduate Michael Bashta initiated a
petition to change the name of the Lansing High School gym to 'Adam Heck Athletic Center'
.
The decision was made to proceed with the soccer team's
first game of the official season,
against Watkins Glen, on the grounds that Heck would have wanted the team to play. The game attracted hundreds of fans and well-wishers who wanted to show their support of Heck, his family and team. Lansing won 3-0, continuing a winning tradition Heck had overseen for 19 winning seasons in a row, with over 300 career victories, 11 division titles, four league championships, eight sectional titles, four regional titles, three times state finalist, and 13 top-twenty final state rankings. A banner said it all: "This One's For Coach AH"
That underscored the fact that while grieving, practical decisions had to be made quickl. In consultation with her leadership team and athletic department support personnel, Pettograsso appointed long time coach and physical education teacher Stuart Dean as Acting Athletic Director. Volunteer assistant coaches Benji Parkes and David Slussinger led the team in Monday's game, and will continue to do so with Parkes taking on the head coach position. Pettograsso says no decisions have been made as to how a permanent replacement will be made.
"We will be reviewing what is best for our students for the future in regards to this position and the layout of Dean of Students," she says. "I believe Stuart has the relationships and communication skills to continue to support our athletic department," Pettograsso says. "He will be challenged with bridging the communication that was occurring between Adam Heck and the numerous AD's and athletic leaders in the region and himself. He surely needs to get up to speed quickly as the varsity season has already kicked off in many sports."
He will also pick up where Heck left off in coordinating with the town. The Lansing Schools have long benefited from a close relationship with the Lansing Recreation Department. Recreation Director Steve Colt says that Heck's investment in young athletes in the Rec Department soccer program meant a steady progression -- starting at Kindergarten age -- in the same soccer philosophies and strategies that paid off when they got to the modified and varsity teams in that school.
"It's a very important relationship," says Colt. "We are fortunate to have it. It's a long standing relationship. I think it's one that a lot of other places wish they had, and it's one that has allowed us to accomplish the things that we've done. It's a two-way relationship, and that deals with programs, it deals with facilities, people, coaching… all those things. Adam certainly played a big part in it. We were both totally bought in on sharing services. It works to everybody's benefit when you do that, and he was a big pusher for that."
The Dean of Students piece was new. After reviewing staffing needs last year the leadership team and Board of Education decided to tie the Athletic Director position to Dean of Students, and they wanted Heck for the job. Previously the position had been part Athletic Director and part Physical Education Teacher, but the new job description requires administrative certification by state education law. Heck had started classes, but passed away before he could complete his degree. Heck's passing may mean a re-reconfiguration of the dual position. Pettograsso says the district will be seeking a dean of students in the near future.
Some of the teams Heck assistant-coached earlier in his Lansing career have been inducted in the Lansing Athletics Hall of Fame. Colt predicts Heck will be inducted as a coach once the criteria for induction are met (there is a ten year period before inductees are considered).
"That's sort of a no-brainer," Colt predicts. "In time he will be in there as well, individually and more of his current soccer teams once they get into the appropriate age cycle.
Heck's accomplishments as a coach are outstanding. His team made it to the NYSPHSAA boys soccer final four every year from 2012 to 2015 under Heck's leadership. The Empire State Game's Scholastic Boys Soccer team he coached won the gold medal in 2006. His annual summer soccer camp for boys and girls from Kindergarten age to 10th grade was one of the Lansing Recreation Program's most popular programs. The National Soccer Coaches Association of America named Heck New York State Coach of the Year in 2007 and 2012. In 2013 he was named NFHS New York State, Regional Coach of the Year. In 2014 ESPN Ithaca - WPIE named Heck Coach of the Year in a Boys Sport at the Night of Champions dinner for coaching the Boys Soccer team to the Class C NY State Championship game. This year would have been his 21st year.
He also coached the boys basketball team for 14 seasons until 2015, leading the team to two Section 4 championship games. Heck was also on the Lansing Athletics Hall of Fame Committee. He became the Lansing Schools Athletic Director in 2010.
Despite the practical considerations, the community is still in mourning. Calling hours are scheduled today (September 2) from 4pm to 8pm at Bangs Funeral Home. A memorial service that Pettograsso is calling 'a celebration of life' has been scheduled tomorrow at 12:30pm on Sobus Field, where the Boys's Varsity Soccer Team earned their first victory of the season Monday. A reception will follow.
Pettograsso says that school counselors will continue to be available and the district has also sought support from local hospice counselors. She says her team has already spent a good amount of time with coaches and others to support the community.
"Adam was a friend and was someone I could bounce ideas off of," she says. "He was someone who would lend an ear and advice at any time, day or night. He was special. He was really just a good man."
v12i44