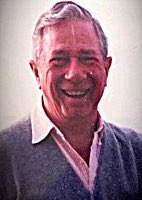 1926-2018
John N Johnson, 91, of Holly Hill, FL passed away on September 8, 2018 after a short illness.
John was born in Ludlowville, New York on November 16, 1926, the son of the late Carl and Alma (Randall) Johnson of Ludlowville, NY. John and his wife Dorothy lived in the Cayuga County and Lansing, NY area until they retired and moved to Florida in1987. John attended Ludlowville School then enlisted in the US Navy to serve in the Pacific region in World War II. Toward the end of his naval service, in 1946, he married his sweetheart Dorothy Inman. John and his wife operated Johnson's Atlantic gas station and auto repair on Ridge Road across from the Lansing Schools. Later, John was a favorite bus driver for many students; and mechanic for the Lansing School District. John had a warm demeanor and a sense of humor, always making and telling jokes and keeping things lighthearted.
John was always helping people. He was an assistant scout master to the Boy Scouts in King Ferry. In winter, during heavy snow storms, when he had the service station, he would rise early and plow driveways so people could get to work, coming back to plow his own before going off to work himself. He volunteered as an ambulance driver for the Almeda-Lansing Fire Co. He built two homes for his family in Lansing; his granddaughter Tracy and her family still reside in the house on Salmon Creek Road.
In Florida, John and Dorothy both volunteered at the Ormond Memorial Hospital helping people after heart surgery. Like his dad and uncle before him, John loved woodworking, making tables and crafts for the extended family, and performing home improvement projects both in Lansing and in Florida.
John is survived by his wife, Dorothy of Holly Hill, FL, three children, Frances Carr of Edgewater, FL; Donald (Nancy) Johnson of New Smyrna Beach, FL; Amy Johnson (Angela Lim) of Berkeley, CA; one brother, Raymond (Tania) Johnson of Lansing; one grandchild Tracy (Dan) Lajza, and three great grandchildren, Jacob, Mattea, and Connor all of Lansing. Also many nieces, nephews and cousins.
John was preceded in death by one son, John Edward Johnson; daughter-in-law, Jill Emmick Johnson; and four siblings Mae Weeks, Carl Jr "Juke" Johnson, Eda Terwilliger, and Doris Bordonaro.
A celebration of life will be planned at a later date. Donations in honor of John N. Johnson may be sent to Florida Hospital Memorial Foundation (Attn: Julie Rand, Exec. Dir. 305 Memorial Medical Parkway, St. 212, Daytona Beach, FL 32117). These will go for the care of indigent patients. Or you may donate to your local Salvation Army, local Hospice or Food Bank.