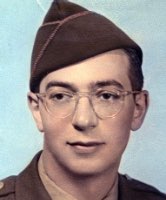 Fred Voss, 99, a Holocaust survivor and World War II veteran who spent years talking at high schools, churches, and other gatherings to keep alive the memory of the horrors of the 1930s and 1940s, died on August 30, 2019. Voss's speeches had a consistent message: Don't hate.
Born on April 12, 1920, in Aachen, Germany, Voss and his family fled the Nazis and came to the United States in 1940. He returned to Europe in the U.S. Army, serving in France and Germany in the months after D-Day. (He became an American citizen on the troop ship to England. His citizenship papers were signed by Commander Jack Dempsey, the famous prizefighter, who was the highest ranking officer on the ship.) In 2012, in honor of his work speaking to schools and his military service, the Lansing, NY, High School arranged for him at age 92 to receive the high school diploma denied to him by the Nazis.
In Germany, Voss grew up in a middle-class family of textile merchants. But the Nazis took power just as he turned 13, and he returned from his bar-mitzvah ceremony to find anti-Jewish propaganda plastered across the family store (they lived upstairs). He had hoped to be a doctor, but was thrown out of high school by the Nazis. Instead, he learned the technical trades of textiles.
On Kristallnacht, November 9, 1938, when Nazi troops burned synagogues and looted Jewish homes, Voss avoided soldiers searching for him by riding a train all night long. A few months later, with forged visas, his family escaped through Belgium to London and then New York, where his older brother had settled earlier in the 1930s.
On New Year's Eve 1940, as he passed through London, Voss met Ilse Machauf, a Viennese refugee. They courted by mail throughout World War II. After the war, Voss's family sponsored Machauf and her mother (her brother and father had been killed by the Nazis), who arrived in New York before Voss returned from his military service. Voss and Machauf were married May 19, 1946.
Voss worked in the textile industry in New York City and later in Milton, Pennsylvania, where he was vice president of H. Warshaw and Sons. On retiring in 1985, Voss became a travel agent for Liberty Travel, specializing in leading tours to Alaska and Hawaii. He retired fully in 2002 when he and his wife moved to Ithaca, NY, to be closer to their daughter and her family.
Beginning in Pennsylvania in the 1980s, Voss spoke regularly to church groups, synagogues, and especially schools about his experiences growing up in Nazi Germany. He also led tours to the U.S. Holocaust Memorial Museum in Washington, DC, of which he and his wife were founding members.
After moving to Ithaca, Voss continued to speak at area schools. In 2012, an English teacher at Lansing High School, June Martin, arranged for Voss to receive a Regent's Diploma under a New York State rule that grants diplomas to veterans who were unable to complete regular high school. Voss delivered the commencement address to the Lansing High School graduates that year (available at
https://youtu.be/t4dZsy5NPdQ
).
Voss published his memoirs in 2005. New editions appeared regularly, most recently in 2016 on the occasion of his and his wife's 70th anniversary. The book is available on Amazon (
https://amzn.to/2P0SAPZ
).
Voss is survived by his wife of 73 years, Ilse Voss, his son Clifford Voss (wife Maj Lis), his daughter Claudia Voss Lewenstein (husband Bruce), his grandsons Daniel and Stefan Voss (fiancé Laura Vann) and Joel (wife Nicole Allan), Gabriel, and Ari Lewenstein, and his great-grandson Gideon Lewenstein.
A funeral will be held on Sunday, September 1, at 1:00 pm at Temple Beth El in Ithaca, NY. Donations in his memory may be made to the U.S. Holocaust Memorial Museum,
https://www.ushmm.org/.