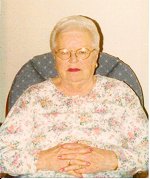 Slaterville Springs - Helen I. Parker, age 93 of Slaterville Springs, died peacefully at her residence on Friday morning (December 11, 2009) surrounded by her family. Helen was born in Cincinattus, the daughter of the late Frank and Mertie Albro. She was married to Herbert W. Parker prior to his death on December 12, 1974.
Helen worked for Cornell University for 27 years prior to her retirement. She loved being with her family and filling her home with sweet aromas from her cooking and baking. Helen was an avid hunter and enjoyed fishing, camping, dancing, and country music.
Survivors include five sons, Harry (Joyce) Orton, Laurence (Ethel) Orton, Bruce (Deborah) Orton, Herbert F. (Kelly) Parker, David (Kathy) Parker; two daughters, Linda Orton and Jeanette Wiiki; 22 grandchildren, and several great grandchildren, and great-great grandchildren; several nieces and nephews. In addition to her husband, she is predeceased by several brothers and sisters.
Services will be private and at the convenience of the family. Helen will be buried in Cooper Cemetery in Brooktondale. If desired, in lieu of flowers, memorials may be made to Slaterville Ambulance Squad, PO Box 190 , Slaterville Springs, NY 14881.