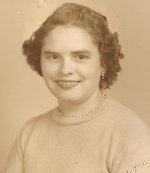 Barbara Ellen Schrier, age 78 of Ithaca, died Saturday at Cayuga Medical Center. Mrs. Schrier was born in Myra, West Virginia, the daughter of the late Joe Hedrick and C. Alberta Porter. She was an avid letter writer who enjoyed keeping in touch with her family. She spent a significant amount of time supporting Muscular Dystrophy organization. Her husband, Charles C. Schrier died on March 9, 1975.

Survivors include her four sons, Larry Schrier, Walter Schrier, Edwin Schrier, and Stanley Schrier; one daughter, Nancy Schrier; a granddaughter, Jessica Schrier and a grandson, David Tulley; two sisters, Devanis (Don) Milburn and Doris Thompson; two brothers, Shirley (Frances) Gallimore and Garry (Nancy) Gallimore; several nieces and nephews. She was the sister of the late Charles, James, and Melvin Gallimore.
Friends and family may call Tuesday from 3-4 p.m. at the Herson Funeral Home, located at the Family Service Center, 110 S. Geneva Street, Ithaca. Burial will be in Grove Cemetery, Trumansburg in the spring of the year due to weather conditions. In lieu of flowers, memorials may be made to
MDA
or to the McGraw House Activity Fund.