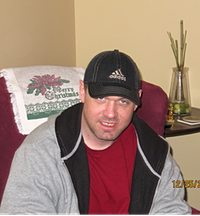 Jason D. Herren passed away unexpectedly at home on June 7, 2011, at the age of 36.
Born December 23, 1974, in Phoenix, AZ, he was the son of Katrina Neff and Billy Herren. Jason was employed as a welder at Pall Trinity Micro Corporation in Cortland.
In addition to his mother Katrina (Pat) Neff of Lansing, and his father, Billy Herren of IL, Jason is survived by his brothers, Jeremy Herren and James Neff of Lansing; a sister, Jessica Herren of IL; maternal grandparents, Mary Sue Taylor of AZ, Fred Cooper of AZ. and paternal grandmother, Billie R. Herren.
Family will be present to receive friends on Tuesday, June 14, 2011, from 5 - 8pm at Lansing Funeral Home, 32 Auburn Rd., Lansing, NY. Interment will take place in Arizona at a later date.