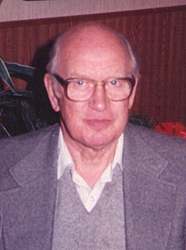 Ithaca - Dr. William J. Dress, professor of botany, emeritus, of the Liberty Hyde Bailey Hortorium at Cornell University died December 15, 2011 at his home at Kendal at Ithaca.  He was 93.
Dr. Dress was born in Buffalo and the son of the late David and Hazel Dress and the grandson of the late Benjamin and Harriet Bauchspies.  He graduated from South Park High School and later attended University of Buffalo where he received his A.B. degree in classical languages in 1931. From 1942 to 1945 he served in the U.S. Army Air Corp in an air service squadron, first in Louisiana and then in England, North Africa, and Italy.  He was honorably discharged at the rank of staff sergeant.
In 1946, he entered Cornell University as a student in the Department of Floriculture and Ornamental Horticulture but later transferred to botany at the L. H. Bailey Hortorium where he was a graduate assistant.  In 1953, he received his Ph. D. degree in botony. Dr. Dress was appointed Assistant Professor in 1953, Associate Professor in 1961 and became Professor of Botany in 1968, all at the L. H. Bailey Hortorium.  He taught Taxonomy of Cultivated Plants, Plant Nomenclature and Botanical Latin.  His chief research interest was the Taxonomy of Compositae, and cultivated ornamentals in general.
He was the editor of the Hortorium's two journals: "Baileya" and "Gentes Herbarum", but one of Dr. Dress' greatest accomplishments was his years of diligent work editing Hortus Third, the one essential authoritative reference work to the plants of North American horticulture.  He worked with Miss Bailey, and in editing Hortus, worked with several colleagues who contributed greatly to that effort.  Dr. Dress is held in the highest regard by horticulturists around the world for that effort, as well as for the loyalty he demonstrated to those that worked along with him.
Dr. Dress was the author of at least ten books on plants which included orchids, asters, cactus and milkweeds, in addition to having two plants named after him: a fossil flower named Dressiantha bicarpellata and a hosta named Dress Blue.

Dr. Dress was awarded the title of Professor of Botany, Emeritus and retired in 1982 after 35 years with Cornell University.
Dr. Dress was a member of Pi Alpha Xi, Phi Kappa Phi and Sigma Xi, honorary fraternities, and of Alpha Gamma Rho, an agricultural social fraternity.  He was also a member of the American Society of Plant Taxonomies, the International Association for Plant Taxonomy and the Nomenclature and Registration Committee of the American Horticulture Society.
It was through the generosity and thoughtful commitment to stewardship of Dr. Dress that the Town of Ithaca acquired a ten acre site of mature forest bordering Culver Road on the town's west side.  This is the site of magnificent hardwood trees owned and long cared for by Dr. Dress which represents some for the finest forest remaining in Ithaca.  Now known as "Dress Woods", it is a beautiful and pristine woodland preserved for the entire community.
Dr. Dress was uniformly generous with his time, knowledge, and spirit.  His love for botany resulted in his involvement with many community organizations including the Native Plant Society, the Rock Garden Society, the Orchid Society and the Six Mile Creek Advisory Board.  His compassion for others was evident in the work he did for FISH for many years as director, driver, and writer of the newsletter.
Dr. Dress was a world traveler, a collector of fine art and antiquities and loved opera.  He loved sharing his plants with family and friends which now leaves a strong and nourishing presence for others.  He was dedicated to his family, was extremely generous and caring, a humble man of much grace and courage; he truly was a gentle man.
He is survived by his sister, Lucille Condon (late Frank), of Orchard Park; he is also survived by 57 nieces and nephews who loved him dearly. Dr. Dress is predeceased by his two sisters; Emilie Kinsella and Annette (late Herbert) Caughel.
Burial was at St. Matthew's Cemetery in West Seneca. Memorials may be made to the Michael J. Fox Foundation for Parkinson's Research (e-mail:  This email address is being protected from spambots. You need JavaScript enabled to view it.) or sent to:
Michael J. Fox Foundation for Parkinson's Research, Attention Tribute Gifts, Church Street Station, P.O. Box 780, NY, NY 10008-0780