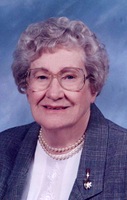 Anna Moravec, age 93 of Ithaca died Friday, March 23, 2012 at Beechtree Care Center in Ithaca, NY.
Born March 26, 1918 in West Dryden, NY she was a daughter of the late August and Emma Vesley Kozel and wife of the late James Moravec.  She was a graduate of Ludlowville High School, class of 1936 and had been employed with the NYS School for Girls in Lansing prior to her retirement.  She was a member of the Pythian Sisters, Northeast Home Demonstration Unit and St. John's Episcopal Church where she was very active in church activities.
Anna enjoyed many summer stays at Torch Lake, MI as a guest of her niece, Sheila (Richard)Kozel Temkow  of Detroit, MI along with other members of the Kozel family and their spouses.  She also enjoyed visits with her niece Vicki Burnside, in Texas, who always made sure she had front row seats at concerts by top named Country/Western Stars.
Mrs. Moravec is survived by her son, James A. (Linda) Moravec of Ithaca, NY; grandchildren, Michael (Shannon), Brian (Maria), Karen (Tyler), Jaynelle (Bill) Tenor, Cindi Moravec, and Robert (Terri); great grandchildren, Nicole, Gregory, Katie, Kelly, Adam and George Moravec, Mariah, Charles, Katrina Tenor, Shelby and Mackenzie Moravec; sister, Mary DiGiacomo of Auburn, NY; and several nieces and nephews.  In addition to her husband and parents, she was predeceased by her son, Richard "Dick" Moravec and brothers, August and Edward Kozel.
A memorial service will be held at a later date in St. John's Episcopal Church with Rev. Phillip Snyder officiating.  Burial will be in the family plot at Willow Glen Cemetery, Dryden, NY.  In lieu of flowers, memorials may be directed to St. John's Episcopal Church, 210 N. Cayuga St., Ithaca OR Beechtree Care Center, 318 S. Albany St., Ithaca, NY  14850.  Perkins Funeral Home is assisting the family.