Three individual athletes and a team joined 72 Lansing athletes and teams December 27 at the 15th annual Lansing Athletic Hall Of Fame induction.  Friends, families and fans filled the Lakewatch Inn as Billie Boles Downs, Lindsey Dean Felling, Carrie Richards McGowan and the 1993 football team were honored.  Coctails and dinner preceded the induction ceremony.
"They are top quality athletes," said Master of Ceremonies Geoff Wright.  "We have inducted 61 individuals and 11 teams.  Tonight we welcome three individuals and one team to the Hall of Fame."
Nominations are solicited through the year and nominees are accepted by a committee made up of Geoff Wright, Katie Mayo, Bill Rankin, Carrie Moore, Ron Eastman, Steve Lehr, Steve Colt, Gary Christopher, John Longhouse and Adam Heck.  Athletes must have competed in more than one varsity sport while at Lansing High School, and have graduated at least ten years before they can be inducted.  Likewise teams must be ten years out and have won at least one championship in league, sectional, regional or state competitions.  Coaches, administrators and contributors are also eligible to be inducted.
Individual inductees are awarded plaques with a picture and a rundown of the athletes' accomplishments.  Team members are awarded certificates.  Plaques are also mounted in the Hall Of Fame, located behind the high school gymnasium.
Billie Boles Downs
Billie was a 13 time letter winner at Lansing, earning 4 letters in Soccer, 4 in Basketball, 4 in Softball and 1 in Track & Field.
She was a 10-time IAC All-Star, earning 4 in Soccer, 3 in Basketball and 3 in Softball.
Boles co-captained the 2001 Class C NYS Championship Basketball Team as well as the soccer squad.
Boles help lead Lansing to a four year soccer record of 56-15-4, and two Section IV Class C Championships. For three seasons, she was the team's leading scorer. For four years, she scored 37 goals and had 31 assists for 101 career points.
Boles was a 1st Team All-State selection in Softball as a sophomore and a 2nd Team All-State selection as a junior. She helped the LadyCats Softball team to a four year record of 81-6, and a Section IV Class C Championship. Boles finished with a career batting average of .398, on 126 hits, 21 doubles, 20 triples and 14 home runs, while driving in 88 runs and stealing 63 bases.
She was a major contributor on the 2001 Girl's New York State Championship Basketball team, helping the LadyCats to a four record of 87-7, and a NY State Class C Championship, with a 27-1 record her senior year. She was a First-Team All-State selection as a senior.
Boles continued her athletic career playing softball at Cornell University.
Lindsey Dean Felling
Lindsey was a three-sport athlete, earning 12 Varsity letters from 1998-2001. Despite leading softball and soccer teams to a combined three Section IV Class C championships, it was basketball that made her name widely recognized.
She was a 2-Time All-State selection in soccer and a 3-Time All-State selection in basketball. Her four year basketball record was 87-7. She was named the IAC Division MVP for four years, while she helped lead Lansing to four consecutive IAC Division titles.
As a senior, she was named the New York State Class C Player of the Year and the NYS Championship Tournament MVP, as Lansing captured the school's first state championship in any sport. Lansing's record was 27-1, in winning the NYS title.
Dean is the all-time leading scorer in basketball, for both girls and boys, scoring a total 1,702 points. Eleven years after her graduation, she also remains the career leader with 418 assists and 442 career steals.
Lindsey was selected as the Ithaca Journal Female Athlete of the Year in 2001 and went on to play basketball at Cornell University.
Carrie Richards McGowan
Richards was a 15 time Varsity Letter Winner at Lansing, earning 5 each in Swimming, In-Door Track and Field and Out-Door Track & Field.
Richards was a very important member of the Swimming and Diving Team, helping the team win numerous Section IV Class C titles, along with numerous individual and relays wins. She captained the LadyCats Swimming and Diving Team in 2000 and was awarded the Outstanding Swimmer Award as a senior. But she made her mark out of the pool, running.
Richards ran In-door and Out-door Track and Field starting as an 8th grader. From 1998-2001, she was named Lansing's Most Valuable Runner in both In-Door and Out-Door Track & Field.
Richards was named the IAC's Most Valuable Runner from 1998-2001. In 2000, Carrie won the school's first ever Individual State Title, winning the 800 Meter Run, at the NYS Championship Meet.
In 2000 and again in 2001, she anchored Lansing's State Championship Relay Team, winning the 4 X 400 Relay.
Also in 2000 and 2001, she was a member of the NYS Silver Medalist Relay Team in the 4 X 800 Relay.
Richards captained both the In-Door and Out-Door Track & Field Teams as a junior and again as a senior.
Richards continued her Track and Field career running at Cornell University, where she was named to the All-Ivy Team as well as being named to the All East Team, all four years at Cornell.
1993 Football Team
Class "D" Section IV Champions
The 1993 Football Team finished with a 9-1-1 record.
Lansing reeled off 5 consecutive wins to open the season. Heading into the Tioga game, Lansing was ranked #1 in New York State. Following a 14-14 tie against Tioga, they dropped to #2. They finished the season at #2, in spite of not playing in the State Championship game.
Lansing outscored their opponents 298-123. Four times they scored more than 40 points and four times held their opponents to 7 points or less.
The Bobcats were crowned Class D Section IV Champions, when they defeated Deposit 33-27 in double overtime. Bill Kerry scored the winning touchdown with a 2 yard run.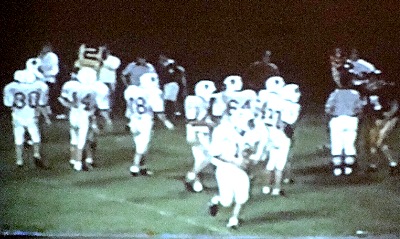 The Bobcats then played eventual NY State Champion Clyde-Savannah, losing 20-7, in a Regional contest played in Rochester. The Bobcats grabbed an early 7-0 lead. They were unable to hold on as Clyde-Savannah responded with 20 unanswered points. In this game, it was the only time the State Champions trailed an opponent all year.
Lansing was known for putting away their opponents early. They outscored the opposition in the first quarter, 95-21.
With a strong and quick offensive line, the Bobcats rushed for an average of 212 yards per game. Their passing game added another 73 yards, for a total offense of 285 yards per game.
Their defense was outstanding. The Bobcats compiled 17 sacks, 20 fumble recoveries and 11 interceptions.
The Head Coach was Ed Redmond and the Assistant Coach was Stuart Dean.
Players were David Barker, Mike Braid, Mike Canger, Casey Crandall, Ely Ellis, Craig Foote, Andy Garrett, Terry Grant, Shane Haney, Glen Hinkley, Jason Jones, Bill Kerry, Max Kerry, Kevin Kessler, Mike Kobasa, Brian Mason, John Mayo, Brian McLean, Jesse Miller, Mike Moseley, Kevin Nelson, Greg Pronti, Carl Schimmelfing, Bo Singphonexay, Steve Vincent, and Cory Walter.  Michael Redmond, Brian Bowman and Graham Eastman were the team managers.
---
Inductee summaries provided by Geoff Wright
v10i1