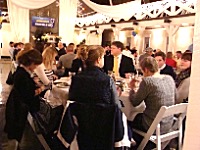 One day after Christmas the Lansing Athletic Hall of Fame held its 16th induction ceremony, inducting six individuals and two teams.  The banquet attracted the largest crowd, 116 people, in the Hall of Fame's history.  The ceremony also recognized the largest number of new inductees since the original ceremony in 1988.
68 individuals and 11 teams have been inducted prior to the December 26th banquet.  Master of Ceremonies Geoff Wright announced the inductees: Jackie Ryan, 2003, 10 time letter winner in Track and Field, Swimming and Basketball. Matt Biviano, 2003, eight time letter winner in Football, Bowling and Baseball. Tim Wright, 1996, nine time letter winner in Soccer, Basketball and Baseball and C.J. Wurster, 1995, six time letter winner in Soccer, Basketball and Baseball.  Cathy Haight was inducted in the Coach category, and Dave Hatfield in the Community Contributor category.  The 1990-91 Girls Basketball Team and the 2002 Baseball Team were also brought into the Hall of Fame.
CATHY  HAIGHT Inducted as a Coach - 2014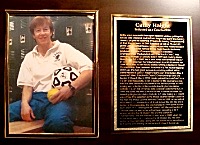 Cathy Haight was a successful three sport coach in Lansing, guiding Girls' Soccer, Girls' Volleyball and Softball.

Haight also spent time helping develop players by coaching JV teams for Lansing. She piloted the JV Boys Soccer team, JV Girls' Basketball as well as 7th and 8th grade Girls' Basketball teams.

Lansing started Girls' Varsity Soccer in 1997 and Haight was named the first Head Coach. Her teams produced 2 Division Championships and 2 overall IAC Championships. The LadyCats won 2 Section IV Class C titles, defeating Unatego on penalty kicks in 1999 and crushing Elmira Notre Dame 5-1 in 2000. Her 6 year Varsity Soccer record was 67-21-4.

Haight coached the Volleyball team to a 50-39 record. Her 1989 Team was 10-2 in the IAC before winning a Section IV Class-C Championship. They defeated Tuckahoe in a First Round Regional Match-up.

She had great success in coaching softball, with a career record of 200-67. Haight's teams won 8 NE Division titles, 5 overall IAC titles, 2 Section IV Class – C Championships and one Section IV Class D title. In 1993, Haight guided the LadyCats 9 to a 1-0 win over Harpursville, to win a Section IV title, revenging a loss from the year before to Harpursville in the Sectional finals.

In 1997, Lansing won a Sectional title by defeating Binghamton - Seton Catholic 1-0, on Hall of Famer, Katie Crandall's solo Home Run. In 1998, the LadyCats won a Section IV title, in comeback style, by defeating Binghamton – Seton Catholic 9-7, after trailing 6-1. Haight was a three time selection as the Ithaca Journal Female Coach of the Year.

The Ithaca Journal selected Cathy in 1993, as her softball team went 21-1, enroute to a NE Small School title, IAC title and a Section IV Championship. She was honored in 1999 as her Soccer Team went 19-1-1 winning the NE Division, IAC title and Section IV Championship as well as her softball team recording a 20-4 season, winning the NE Division title and the overall IAC Championship. She was honored a third time, in 2000, when soccer went 19-1-1 winning the NE Division, IAC Title and Section IV Championship, along with her softball team recording a 20-4 record and finishing as the Section IV Class C Runner-up.






DAVID HATFIELD Contributor  -  Inducted 2014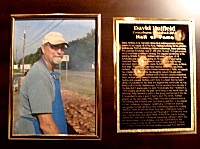 Dave Hatfield is his happiest when he is helping people. And he seems to be happy all of the time.

Hatfield is known for his chicken barbecues. That's fundraising chicken barbecues.

Dave estimates the average fundraiser nets $1,200 after his cost. That gets passed on to countless charities in Lansing. The biggest beneficiary is the Lansing Athletic Program. Hatfield estimates he does 12-15 fundraisers per year. He is going on 15 years as a fund raising machine. The math calculates to over $270,000 that he has donated.

Each summer he cooks 10,000 chicken halves. As Steve Colt says, "The chickens get very nervous when they see Dave Hatfield".

Hatfield started his chicken barbecues in 2000, to support his children's varsity teams. His daughter was on the girls swim team, two boys played football and a third son played basketball. Soon he was being asked to provide fundraiser barbecues for their teams and causes.

Hatfield can't think of a team that hasn't done a fund raiser for. He does it to support the community he has lived in all of his life. Hatfield says, "It's the reaction from the kids. If the kids didn't appreciate my work, I'd probably stop".

Hatfield is a 1975 Lansing graduate. He grew up working on the family farm. His Dad said they needed to plant in the spring and harvest in the fall. If he wanted to play a sport it had to be in the winter. Hatfield played on two successful Fred Caliel coached basketball teams.

The Lansing Hall of Fame uses the following definition to be eligible for the Contributor Category: Outstanding contributors shall be recognized for their generous and unwavering support for Lansing Athletics, and it should be shown that their contributions have in some way, improved or enhanced the program. Contributors must demonstrate they have given freely of their time, talents, energy, selflessness, hard work, or finances, expecting nothing in return, but the appreciation of the athletes, coaches, administrators, the general student body, faculty and community.

The Hall of Fame Committee is proud to say Dave Hatfield exceeds that definition.




MATT BIVIANO Graduated - 2003 Hall of Fame Inducted 2014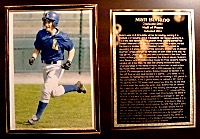 Matt Biviano was an 8 time letter winner for Lansing, earning 2 in football, 3 in bowling and 3 in baseball.

He helped Lansing to a 14-6 two year record on the gridiron, while Lansing earned two Division titles and a Section IV championship. As a senior, he led the team in tackles (47) and assisted tackles (23) as well as recording 3.5 sacks and a fumble recovery.

Biviano was an interior lineman, whose strength let him play on both sides of the ball.

He was an IAC Division All-Star and also participated In the Ernie Davis Senior All-Star game.

Matt captained the Bobcat eleven his senior year.

Biviano was an outstanding bowler for three seasons, helping Lansing win 2 IAC titles. He also led Lansing to back-to-back championships in the Head to Head Tournament as well as two Big House titles.

He led the IAC with a 202 average as a junior, and a 206 average as a senior. Biviano bowled for Section IV in the NYS Tournament and bowled a 6 game, 1,272 series, a 212 average.

He highlighted his senior year by bowling a 300 game in IAC competition. In this 3 game series, he added a 221 and a 182 game, for a 703 series. Matt was a two-time IAC All-Star and he captained the keglers his senior year. Biviano was an athletic first baseman, who compiled a .985 fielding percentage. He hit .440 as a sophomore and .417 as a senior. In 77 career games, he had 88 hits, 24 doubles, 1 triple and 5 home runs. He drove in 94 runs on his way to a three year batting average of .368.

He helped Lansing to a three record of 77-11, which included 3 N. E. Division titles, 2 over-all IAC championships, 3 Section IV titles, a Regional Championship and a berth in the NYS Final Four in 2002.

Biviano also pitched for the Bobcats. His career record was 5-0 with 54 strikeouts in 35 innings and a 2.38 earned run average.

Biviano was a 1st Team All-State selection as a first baseman in 2002.

Matt continued his baseball career playing four years at Brockport State, appearing in the Division III College World Series in 2004. He captained the Brockport 9 as a senior.





Jackie Ryan Moro Graduated – 2003 Inducted Hall of Fame – 2014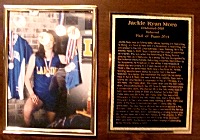 Jackie Ryan was an 8 time letter winner, earning 4 in Swimming & Diving, 4 in Track & Field and 2 in Basketball.

In Swimming, she competed in the NYS Championship meet, finishing 7th in the Medley Relay in 2000.

Ryan Captained the LadyCat swimmers as a senior. She was voted the Swimming & Diving Team's Unsung Hero as a freshman. As a senior, she was recognized by the National Interscholastic Swimming Coaches Association as an Academic All-American.

In the winter, it was basketball, where she led Lansing to a 2 year record of 25-18 and a N. E. Division title her senior year. Ryan was a two-time IAC All-Star, earning second team status as a junior and a first team selection as a senior. She captained the LadyCats her senior year.

In Track & Field, she was a two-time captain.

Ryan was a 4-time IAC and Section IV champion in the 4 X 100 relay, 4 X 400 relay, 100 meter dash, 200 meter dash and the 400 meter dash.

She participated in the NYS Track & Field Championships 4 consecutive years. She placed 5th in the 200 meter dash in 2001 and 4th in 2002. In 2003 she finished 3rd in the 1600 meter relay and 5th in the 400 meter dash.  She was a NYS Champion in 2002 in the 400 meter relay, and a 3-time NYS Champion in the 1,600 meter relay, winning in 2000, 2001 and 2002.

At the time of her induction and 11 years after her graduation, her relay teams still hold two-school records in the 800 and 1600 medley relays.

She was a member of the first sub 4-minute 4 X 400 relay team, establishing a Lansing School and IAC record.

Ryan ran in the Penn Relays, in Philadelphia, in 2001 and 2002 and competed in the NYS Empire State Games in 2001 and 2002.

Jackie Ryan was voted Lansing's Outstanding Senior Female Athlete in 2003.





TIM WRIGHT 1996 Inducted – 2014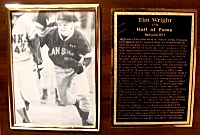 Tim Wright was a 9-time letter winner as a Bobcat, earning 4 in soccer, 2 in basketball and 3 in baseball.

Wright and his teammates laid down the foundation for future successful soccer teams in Lansing. Wright's four year soccer record was 44-23-7.

As a junior, in 1994, Wright helped Lansing to their first ever NE Division title and an over-all IAC Championship, before losing to Margaretville in the Section IV finals. As a senior, the Bobcats won their Division and overall IAC title again. Ranked #2 in Section IV, they were upset in the first round of sectional play.

Wright led Lansing in scoring for 3 seasons. At the time of his graduation, he was the career scoring leader with 99 career points, career goals leader with 37 and career assist leader with 25. 18 years after his graduation he is 9th in career points, 7th in care goals.

Wright was a 4-Times Soccer IAC All-Star, 2-Time Team MVP, and as a senior, a 2nd Team All-State Selection.

In basketball, Wright was a back-up guard, helping Lansing win a Small School Championship as a junior, with a 17-6 record.

Wright was a slick fielding infielder for the Bobcats. His three year varsity record was 64-12, helping Lansing win 3 Division titles, 2 IAC Championships and 1 Section IV title. He was named an IAC All-Star at third base as a sophomore, and at shortstop as a junior and again as a senior.

Wright batted .346 as a junior and .363 as a senior, finishing with 77 hits, 16 doubles, 2 triples, 3 HR's and 68 RBI's. His pitching record was 11-1, striking out 105 batters over 83 innings and he compiled a 1.77 ERA. He pitched a no-hitter against Bainbridge in a Section IV quarterfinal game as a senior.

In the summer of 1995, Wright played for the Central Baseball Team in the Empire State Games. Following graduation, he made the University of Connecticut Huskies baseball team as a walk-on. He transferred to Cortland State and participated on two NCAA Division III World Series teams, finishing 3rd and 5th in the nation in 1999 and 2000.



C. J. WURSTER 1995 Hall of Fame Inducted 2014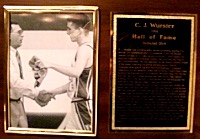 CJ Wurster was a 6 time letter winner at Lansing earning 3 in soccer, 2 in basketball and 1 in baseball.

In soccer, Wurster helped Lansing to a 3 year record of 29-20-7, and helped the Bobcats capture a Northeast Division title and their first over-all IAC Championship. He was selected as the Ithaca Journal Athlete of the Week, following his game winning goal in the IAC Championship game against rival Trumansburg.

CJ played basketball for two seasons under Hall of Fame Coach Fred Caliel, leading the Bobcats to a 37-9 record. His junior year ('93-'94) the Bobcats went 20-3 while winning the over-all IAC title, before finishing 2nd in the Section IV tournament.

He helped guide the Bobcats to the Newark Valley Christmas Tournament Championship, where he was named a tournament All-Star.

His senior year, the Bobcats went 17-6, winning the IAC Small School title. He averaged 18 points per game as a senior.

Wurster scored a career high 38 points in the 1995 Section IV Quarterfinal game against South Kortright.

Twice he was selected as the NewsCenter 7 Sports Monday, MVP of the week. In baseball he hit .232 and was third on the team in runs scored.  He helped the Bobcats to an IAC Division title.

CJ continued his basketball career playing 4 seasons at RIT. Over the course of his career he received the Most Improved Player Award as a sophomore, Most Inspirational Player as a junior and the Most Valuable Player as a senior. He was a Conference All-Star as a senior. Twice he score over 300 points in a season and graduated as the 28th leading scorer in RIT history.





1990-1991 GIRLS BASKETBALL TEAM Inducted - 2014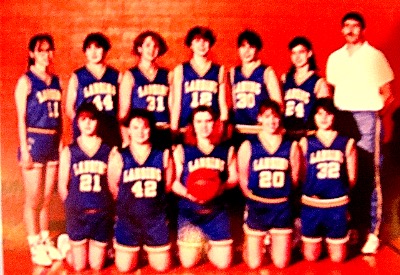 The LadyCats went 21-4 while winning the NE Division Championship and a Section IV Class D-Title.

This team was the first girls' team to win 21 basketball games in a season. They were also the first girls' basketball team to win a Section IV championship. Coach Dean said the team's strength was their ability to play well together, having a strong defense and an aggressive half court press.

The LadyCats started the season winning their first two games, before losing to Dryden 43-33. The LadyCats then won their next three games and headed to the Candor Christmas Tournament, 5-1.

Lansing defeated Tioga in their first round match-up 40-26. They defeated Groton 35-27 to take the title. Gretchen Moore was named the Christmas Tournament MVP. Beth Williams was named to the All-Tournament Team.

Lansing won their next 7 games before losing to Trumansburg.

They then won their next 3 games as they wrapped up the NE Division title and owned a 17-2 record.

SW Division winner Odessa defeated the LadyCats in the over-all IAC title game, played at Ithaca College, 39-36.

Lansing defeated Franklin, their Section IV first round match-up, 43-32 at Whitney Point.

Their second round game was played at Dryden, where Lansing defeated Marathon 44-34.

Lansing won their third round game by defeating Roxbury, 43-40 at Windsor, and were headed to the Class D Section IV title game at the Binghamton Arena. The LadyCats won the Section IV Class D title by beating Charlotte Valley 42-40. The winning basket was scored when Renee Varga stole and in-bounds pass and threw a half court pass to Gretchen Moore, who made a lay-up as the buzzer sounded.

Lansing then lined up against Section III champion Bishop Ludden at Ithaca High for a Regional contest. Lansing lost 44-30. The LadyCats were tied 23-23 at the end of 3 quarters and were outscored 21-7 in the fourth quarter.

Lansing had 3 IAC First Team All-Star selections: Kirsten Combs, Gretchen Moore and Beth Williams. Renee Varga was named to the Second Team.

The LadyCats Head Coach was Stuart Dean and the assistant coach was Cathy Haight.  Heather Walter and Bethany Williams were co-captains.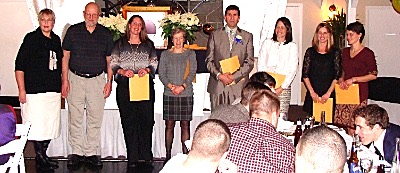 2002 BASEBALL TEAM Inducted 2014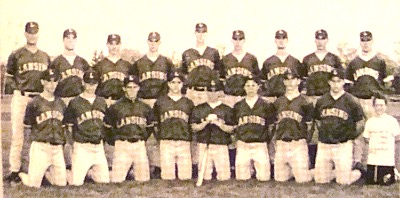 This ball club finished 26-5 and appeared in the NYS Final Four in Utica. The march to the title began by being Co-Champions in the IAC with a 7-3 record. The Bobcats won the Overall IAC Title by defeating Moravia 13-2 in the finals. Section IV play saw Lansing rollover Cherry Valley-Springfield 21-0. Lansing then defeated Binghamton-Seton Catholic 11-3.

In the Section IV semi-final game the Bobcats prevailed over TAE as Gabe Baida pitched a no-hitter in the 4-0 victory.

Lansing won the Section IV Class C Title game by defeating nemesis Moravia 6-3 in the Sectional finals.

Lansing's first Regional game was against the #1 ranked Class C team in NYS, Fabius-Pompey. The Bobcats won 3-1.

In the NYS Final 4 Tournament Lansing drew Pine Plains, who were making their 3rd straight trip to the State Final 4. Lansing lost 6-5, finishing 3rd in the NYS rankings.

As is customary in Lansing athletics, the Bobcats took on all comers, as they traveled for a mid-season tournament to New Hartford to play in the Andy Van Slyke Invitational Tournament against larger schools. In the first round, Lansing drew Carthage, the previous year's Class B State Champion. Lansing won 8-0, behind a no-hitter pitched by Justin Kanellis. They then defeated the host team, New Hartford, 6-4, behind the pitching of Matt Biviano.

The 2002 Baseball Team placed three players on the NYS Class C, 1st Team. The All-State players were  Gabe Baida, Tucker Lind and Justin Kanellis.

Six players on the team were named IAC First Team All-Stars: Gabe Baida, Brett Hotchkiss, Jeff Biviano, Tucker Lind, Andy Frahm and Justin Kanellis. Three players were named to the IAC Honorable Mention Team: Matt Biviano, Thomas Colt and Bobby Kemple.

During the season, Lansing outscored their opponents 363 to 80. The Bobcats batted .342 and their pitchers ended the campaign with a 1.79 Team ERA.

The Head Coach was Ed Redmond, Assistant Coaches were Stuart Dean, Mike Clark and Brian Bowman.




v11i2