The JV baseball team has continued to improve in every aspect of the game.  They started the week with a confident, 12 – 0, shut out of Thomas Edison (TAE).  Then they dropped in on the Groton Indians and took a 13 -2 win.  The boys ended their week with a double header against the then undefeated Union Springs Wolves.  These games were the closest that the Cats have had so far this season.  Game one, 7 – 1, game two, 6 – 0.
TAE came to Lansing and ran into a sawmill of strikes and persistent bats.  Corbin Atkins took the mound and would not let it go.  He pitched a complete game, shut-out, with 10 K's, two hits and one walk.  It was three up three down for five of the seven innings so he only faced an average of 3.3 batters per inning.  The defense never allowed a TAE player past second base.  Lansing's starting catcher, Bryce Stanhope, picked off a player trying to steal second with a bullet to Ben Kutler.
TAE's starting pitcher did a great job, holding Lansing to only three hits and two runs in the first five innings.  In the bottom of the sixth inning Lansing's bats broke loose.  Jared Strait started off with a walk and was his infectious self on the bases.  TAE's pitching gave out and Lansing earned several disciplined walks.  Mixing in a few well-placed hits, Lansing scored 10 more runs in what was the longest inning of the game.  Atkins returned to the mound and finished the game in four batters.  Atkins and Stanhope both went 2 for 3.  Strait scored three runs, earning three walks and making it on base four out of four at bats.  Brandon Mikula and Atkins also earned two RBI each.  Most impressive was that Lansing did not commit one error the entire game.
Next, Lansing popped over the hill to Groton.  The first three innings were a pitching duel and the score remained tied at two all.  Jesse Richardson, an eighth grader on the team, earned the win.  He pitched five innings, sitting eight batters with K's, walking two, and allowing only two runs and one hit.  Richardson also helped his cause by reaching base four out of five times.
Groton's starting pitcher showed signs of tiring and the Bobcats pounced, and pounced hard.  With aggressive yet disciplined bats and base running the Cats scored five runs in the fourth inning and six more in the fifth.  Four of Lansing's players, Brandon Davis, Caleb Moseley, Mikula and Stanhope, batted a thousand.  Kyle Arrison came in the game and crushed his second pitch for a standup double.
Stanhope was put onto the other side of the dish and took the mound to close the game.  Two K's and a put out by catcher Brandon Davis, and the game was over.  Lansing committed only one error this game and enjoyed the 13 – 2 win.
For the first match between the two undefeated teams, Coach Cheatham made a statement by throwing the lethal combo of Strait and Atkins on the mound.  Strait started and earned the win by pitching the first three innings with three K's, no walks, and only one hit.  The Bobcats used their solid gloves and smarts in the field to keep Strait's ERA at an outstanding 0.000.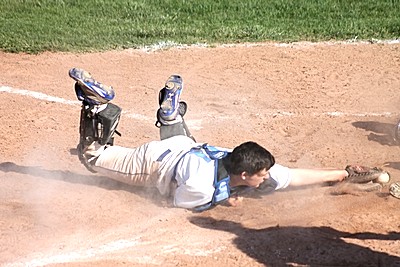 The Bobcats scored three runs in the second inning off a combination of Owen Davis's full count walk, Mikula's RBI double, Kutler's error causing speed, and Richardson RBI single.  In the third inning, Logan Osterman hustled out a dropped third strike to help himself and start another of the Cat's rallies.  Strait walked and then flustered Union Spring's pitcher into a balk.  This moved Osterman to third and Strait to second.  O. Davis crushed an RBI single, scoring Osterman.  Greg Lee kept things going with a disciplined full count walk.  To finish the scoring, Mikula drove the quick running Strait and O. Davis in with a two RBI single to left field.  O. Davis batted a thousand, going 1 for 1 with a walk.  Mikula batted a thousand and ended with three RBI.
Atkins took over the mound with a comfortable lead, confidence, and a smile.  He faced eight batters, struck out two and allowed one hit, one walk, and one run, shutting down the wolves and ending their undefeated status.  The Union Springs team was shaking their heads wondering what had just happened.
The Wolves refused to run away with their tails between their legs and they came out for the second game with a strong defense.  The Pack left three Bobcats stranded on base and no runs scored in the first inning.  Lee took the mound for Lansing and had a shaky start, walking the first batter.  It didn't disturb him; he steadied and caused the next batter to pop out to Mikula in center field.  Stanhope then zipped the ball to B. Davis catching the runner trying to steal third base. Lee settled in and did what he does best, throwing strikes and causing batters to hit poorly.  He struck out four of the eleven batters he faced allowing only two hits, two walks, and no one crossed home plate.
Owen Davis led off the second inning for Lansing with a well hit single, and later scored on Mikula's crushing RBI double.  Kutler joined in the fun scoring Mikula with a RBI single of his own.  Richardson clawed out a full count walk and then scored on Brandon Davis's RBI single.  It was a coach's mantra, get'm on, get'm over, get'm in.  The Bobcats took the field in the second with a 5 - 0 lead.  Lee disposed of two batters with K's and the masked Stanhope flat lined the ball to Kutler at second base to catch yet another burglar attempting to steal.
In the fourth, Kutler tacked on another single and another insurance run.  Brandon Davis came in to relieve Lee on the mound.  Davis faced seven batters.  He struck out two, walked one and didn't allow any hits.  Together Lee, Davis and the Lansing defense kept yet another shut out alive.
Brandon Davis was also very active on the offense, going 2 for 2 with a walk.  Kutler stayed steady, going 2 for 3.  As a team the JV Bobcats are batting over 0.300 and have an OBP (On Base Percentage) above 0.600.  Also as a team their ERA (Earned Run Average) is below 3.00.  This is the number of earned runs allowed per nine innings of play.  Owen Davis regained the lead OBP (On Base Percentage) with 0.766.    Atkins, Mikula, Stanhope, and Kutler all have BA's (Batting Averages) above 0.400.  Atkins retook the top with a 0.435 BA.
They have scored 167 runs, batted 130 hits, earned 90 walks, allowed only 43 hits, and 35 runs to score in 13 games.
With their season record at 13 - 0, the JV boys have three games left.  With one more win they clinch their spot as the IAC Large School, North Champions.  Their next game would be the IAC Large School championship game, date and time to be announced.
v9i18