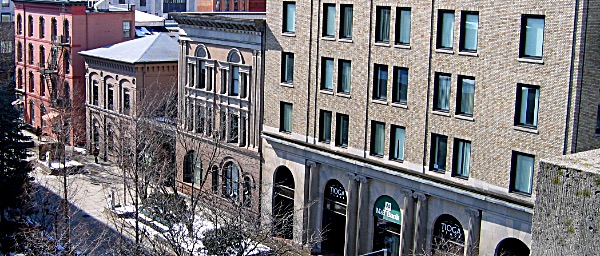 Historic Ithaca, Inc.'s Board of Directors announced that Susan Herlands Holland has been appointed its new Executive Director. The selection of Ms. Holland will allow the seamless transition from Interim Executive Director and Significant Elements Program Manager, Sara Johnson, as the organization works to fulfill its mission of 'education, advocacy, and action' for places of historic and cultural value in Tompkins County. The appointment is effective November 20th.
For the past 12 years, Ms. Holland has been the Executive Director of the Historic Albany Foundation (HAF), a nonprofit that has championed stabilization and adaptive reuse of historic buildings in the Capital region for 43 years. A vocal critic of the ease with which demolitions have taken place in Albany, Holland and HAF have worked with developers and investors to find creative alternatives and new uses for vacant buildings.
A Cornell University graduate, Holland explains that she always envisioned returning to Ithaca, and when the position opened, she applied. "I wanted to see if Historic Ithaca had as much interest in me as I did in them," Holland said. "I have a lot of friends and connections in the area, so the decision wasn't in a vacuum. I love, love that area!"
Previous to joining HAF, Holland served as the Associate Director and Finance Manager of the Neighborhood Preservation Coalition of NYS, an Albany-based nonprofit organization that trains and provides support to local housing organizations throughout New York State. Holland is currently a member of the President's Council of Cornell Women, appointed by late Cornell President Elizabeth Garrett, and serves on the Board of the Upstate Alliance for the Creative Economy, based in Albany.
"I'm deeply honored to be selected for this position and humbled by Historic Ithaca's 51+ years of outstanding service to the community," Holland continued. "Ithaca is well known as a place that values its history, and it shows in every street and neighborhood. Historic Ithaca is one reason for the city's success and I'm looking forward to building on those strengths."
President of Historic Ithaca's Board of Directors Julee Johnson said, "We're delighted to have someone of Susan's caliber lead Historic Ithaca. We want to build upon our community engagement efforts, especially in the areas of materials reuse, job readiness and training for youth, heritage tourism and advocating for the protection and appreciation of the built environment. Susan has a wealth of experience in these areas, and more. It's an exciting time for Historic Ithaca."
v13i40