Trumansburg and Taughannock Falls. Siamese twins who depend on each other. Trumansburg feeds the vacationers to the falls, and the falls draws the vacationers. It's fitting that there should be a restaurant in the village named 'The Falls'.
Like most of the other places I've reviewed, I've passed The Falls Restaurant, usually on my way somewhere, but writing these columns has its benefits – giving me a reason to try new places and tastes. There are always cars outside the restaurant, so the regulars must know something.
Picture a 1950's diner, old style chairs and wood grain Formica tables, or in the other room blonde wood tables and chairs. Photos and paintings of Taughannock Falls are on every wall. Being a native of this area, the images were particularly interesting – especially how the falls have transformed over the last hundred years. Stained glass lamps glow from the ceiling.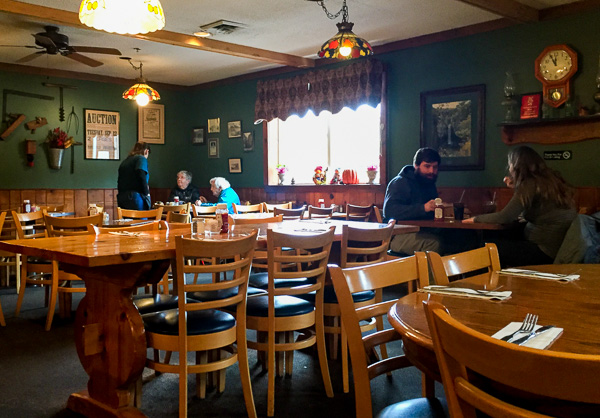 We were greeted with "Just sit where you like, I'll be right with you" and a big smile.
The smiles are genuine, and the service is unhurried but expeditious. In no time we had our root beers and were looking at the single page menu – and looking at the "Specials" board. I think that they had more specials than items on the menu. Their dessert board will be subject of another visit. I saw Lemon Meringue, Strawberry-Rhubarb, grape, raspberry, apple and a half dozen other kinds of pies. We have to go back.
We arrived at 10 minutes to noon, which was a good thing. People started streaming in shortly after we were seated. At lunch, burgers are the norm; Janet had Beef and Cheddar, I had the Tully Burger with onion rings.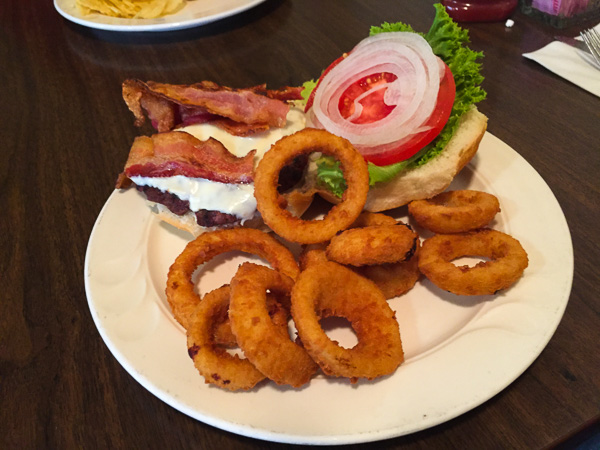 The burger was cooked perfectly and topped with a mountain of bacon. The biggest problem I had was finishing the burger – it was substantial and very tasty. And, of course, everything is better with bacon. The onion rings were a bit of a disappointment. They were cooked well, and to the proper crispness, but tasted bland. I don't do bland. Onion rings should announce their presence with an exciting aroma and let your pallet know something special is on the way. Still, if this is the only problem, the experience was still very good.
With no room for dessert, we decided to come back for coffee and pie another time.
The genuine smile on our server's face as she said, "Have a wonderful day!" proves the warmth that keeps bringing people back to the Falls Restaurant.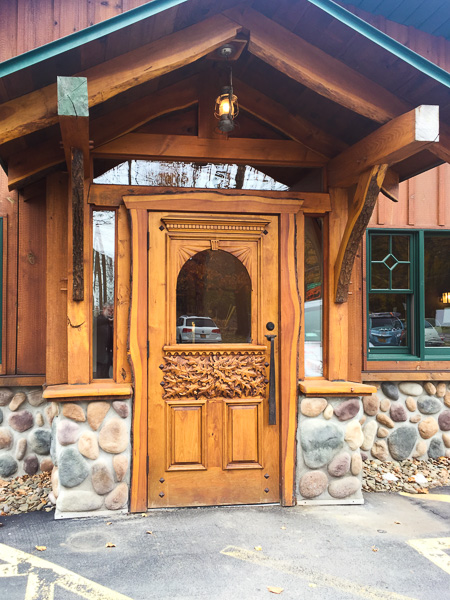 The Falls Restaurant isn't necessarily a destination by itself, but is a very good place to fill up and continue your journey to the wineries, parks or maybe even to visit to the falls. How appropriate…
The prices are very modest. Our meals cost less than $30 for both of us. This would be the perfect place to take the kids for a treat, or to meet with friends to chat while enjoying the Falls fare.
Located at 214 E Main St in Trumansburg, (right across from 'Not My Dad's' ice cream, it's easy to find. And, it's within reach!
---
'Within Reach' highlights the food, wine and fun of places 'within Reach' of Lansing NY. Of course, your reach extends exactly as far as you want it to. I am
Monroe Payne, Uncle Monte
to some. Come with me as I visit, taste and play in our own back yard, the beautiful Finger Lakes of Central New York.

v13i44